A tiny tuxedo kitten's loud cries alerted a family to find his litter and turn their lives around.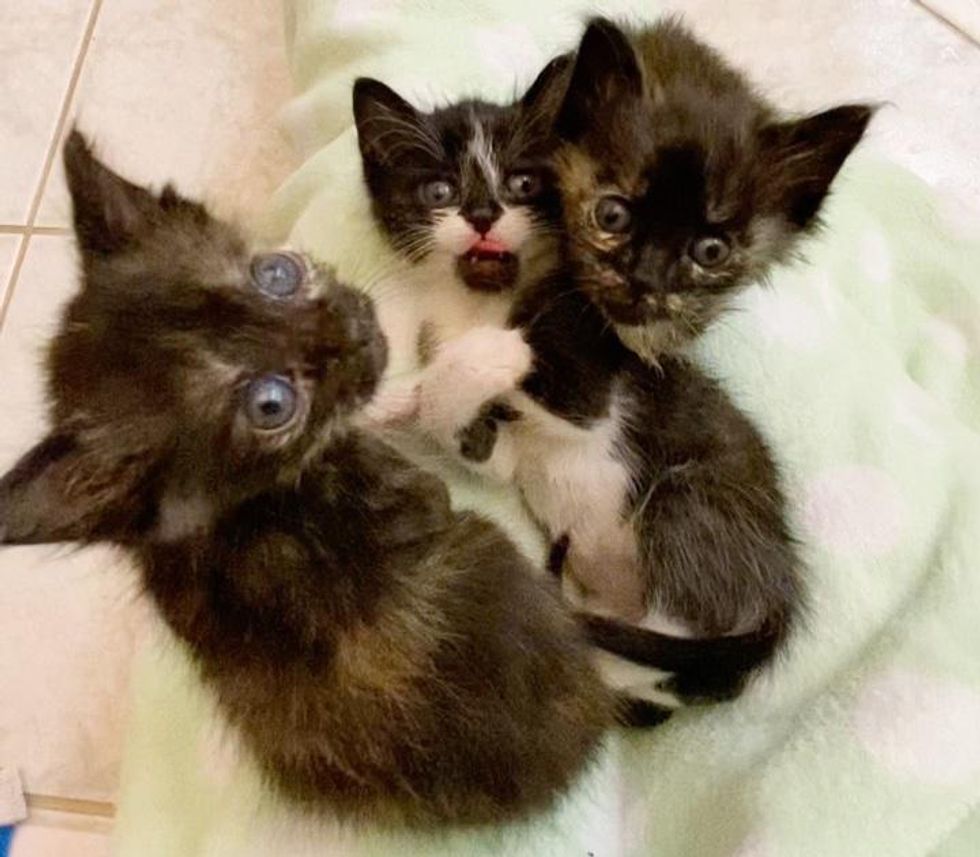 Tania @tania_b07
Earlier this year, a Good Samaritan from Toronto, Canada heard what sounded like a kitten crying, and couldn't leave without investigating it. He followed the sound to a dumpster and discovered a suspicious plastic bag.
When he picked it up, he was shocked to find not just one, but a litter of day-old kittens huddled up trying to stay warm. The tiny tuxedo was screaming at the top of his lungs, crying for his mom.
The kind-hearted man immediately brought the kittens to his daughter for help. The young woman and her friend worked together to care for the litter overnight. The next day, they took the kittens to the Toronto Humane Society.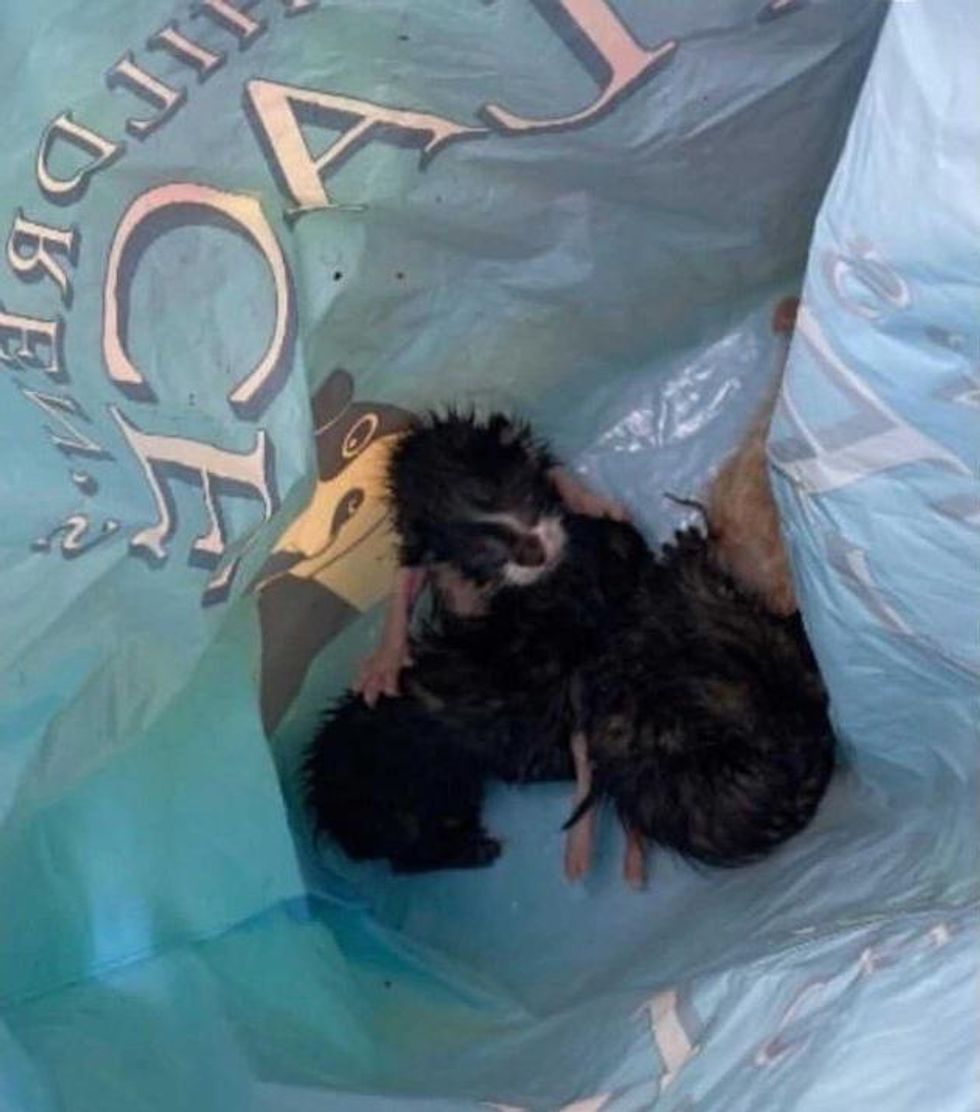 They were found in a plastic bag in a dumpsterTania @tania_b07
"If it wasn't for the tuxedo's screaming, they probably wouldn't have been found," Tania, a foster volunteer of the Toronto Humane Society, shared with Love Meow.
With the help of many volunteers, Charlie (tuxedo), Nova (tortie) and Suarez (tortie) survived the ordeal and began to thrive. Their eyes opened around the second week, and they started using their legs to waddle as soon as they were strong enough.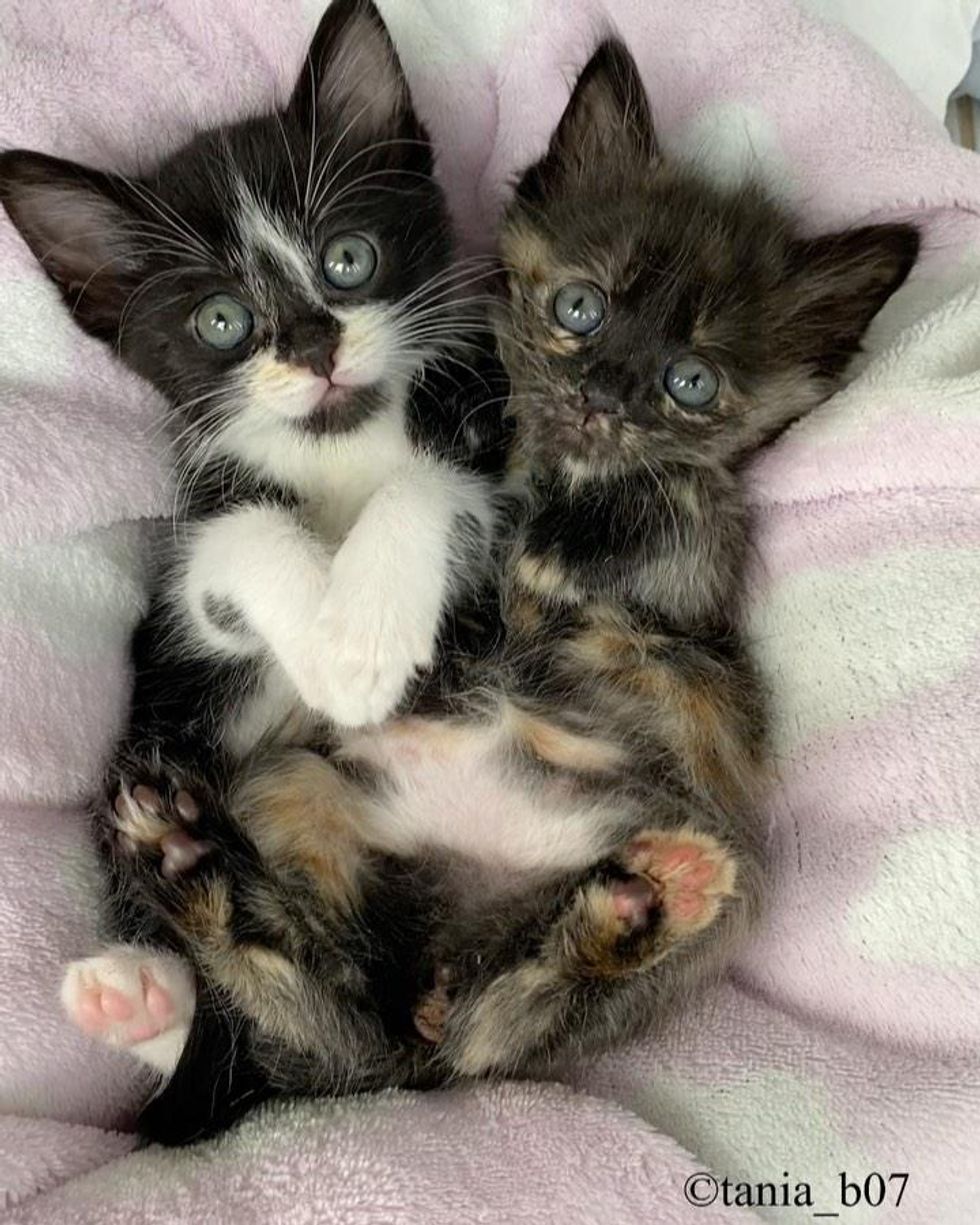 Charlie and NovaTania @tania_b07
"The kittens were extremely young so they quickly became used to humans and were very friendly. I'm sure they knew right away that they were going to be taken care of," Tania told Love Meow.
"I received them when they were three weeks old to foster them until they were old enough to be spayed and neutered and then adopted."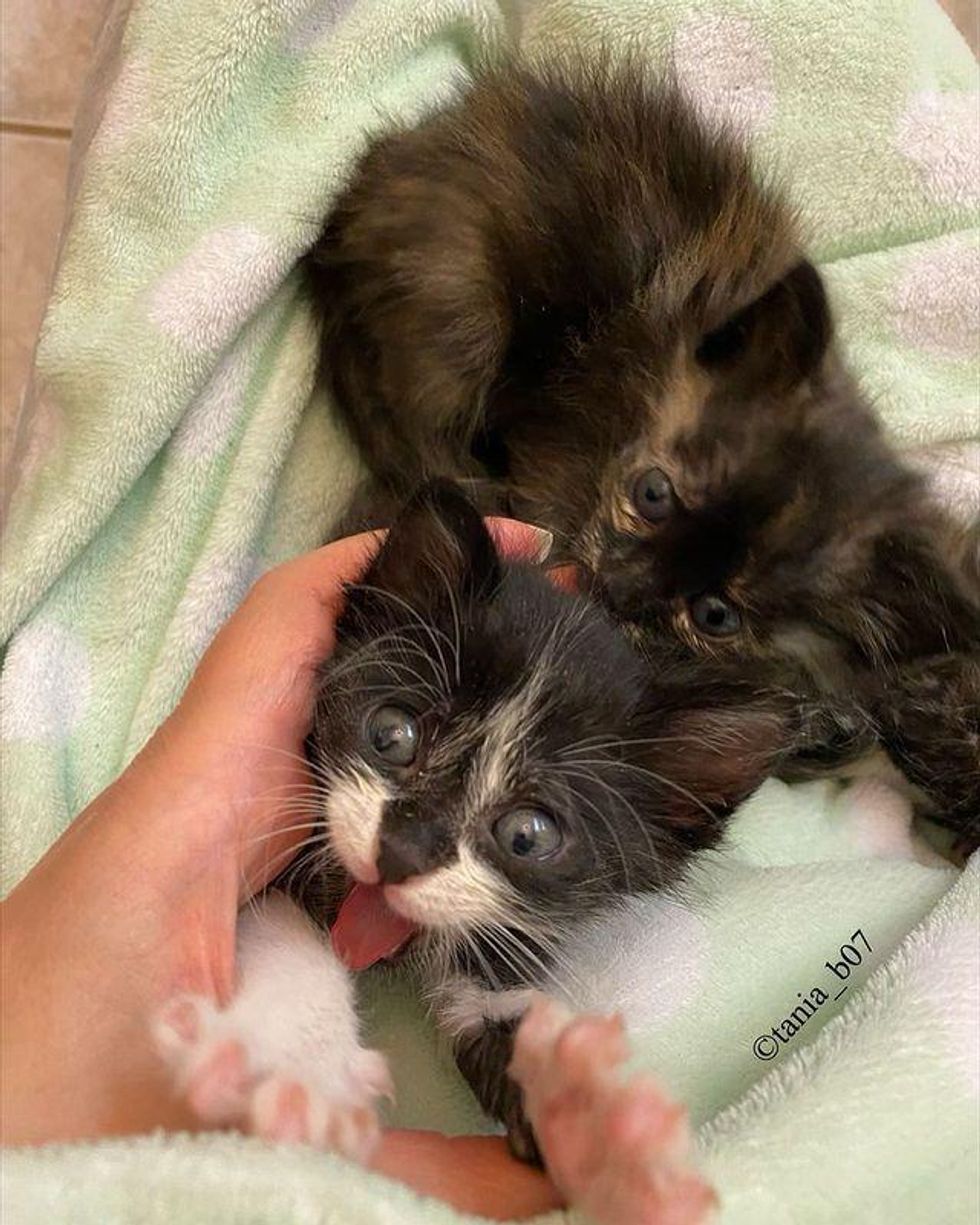 Tania @tania_b07
"They loved to cuddle with me and play with each other. They were happy, healthy and purry little furballs."
The young women never forgot about the kittens and continued following their foster journey through social media. They watched them grow from pint-sized wonders to cuddly lap cats to rambunctious mischief-makers.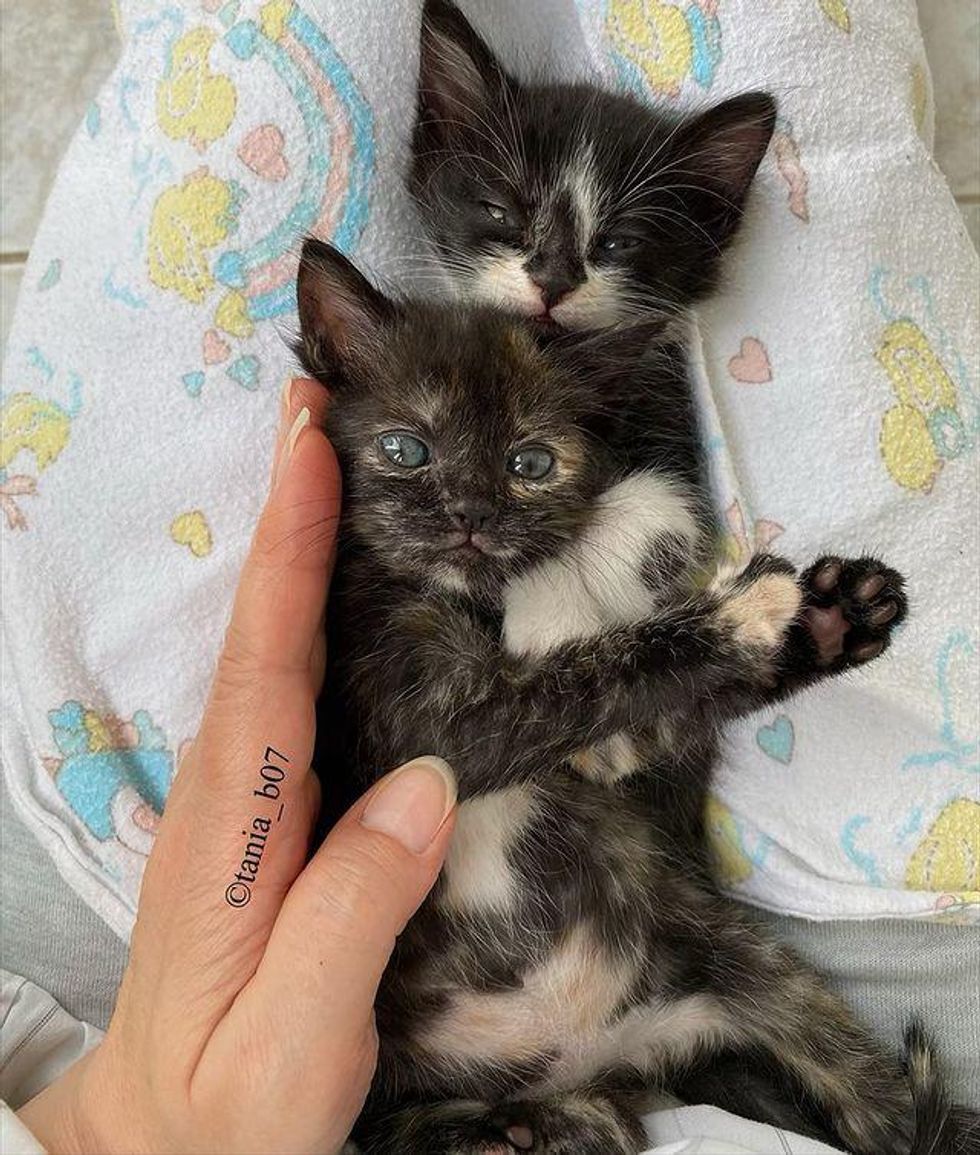 Suarez and CharlieTania @tania_b07
The kittens quickly figured out that warm laps were meant to sit or nap on. They would often curl up in Tania's lap in tandem, and wrap their arms around each other while they purred up a storm.
Watch the kittens in this cute video:

Sweet lap kittens

www.youtube.com

"Suarez loved to crawl onto my lap after eating and stare into my eyes while she let me brush her glorious fur. Then she would burp which would usually be followed by a toot and then it was nap time, all while she was mere inches from my face."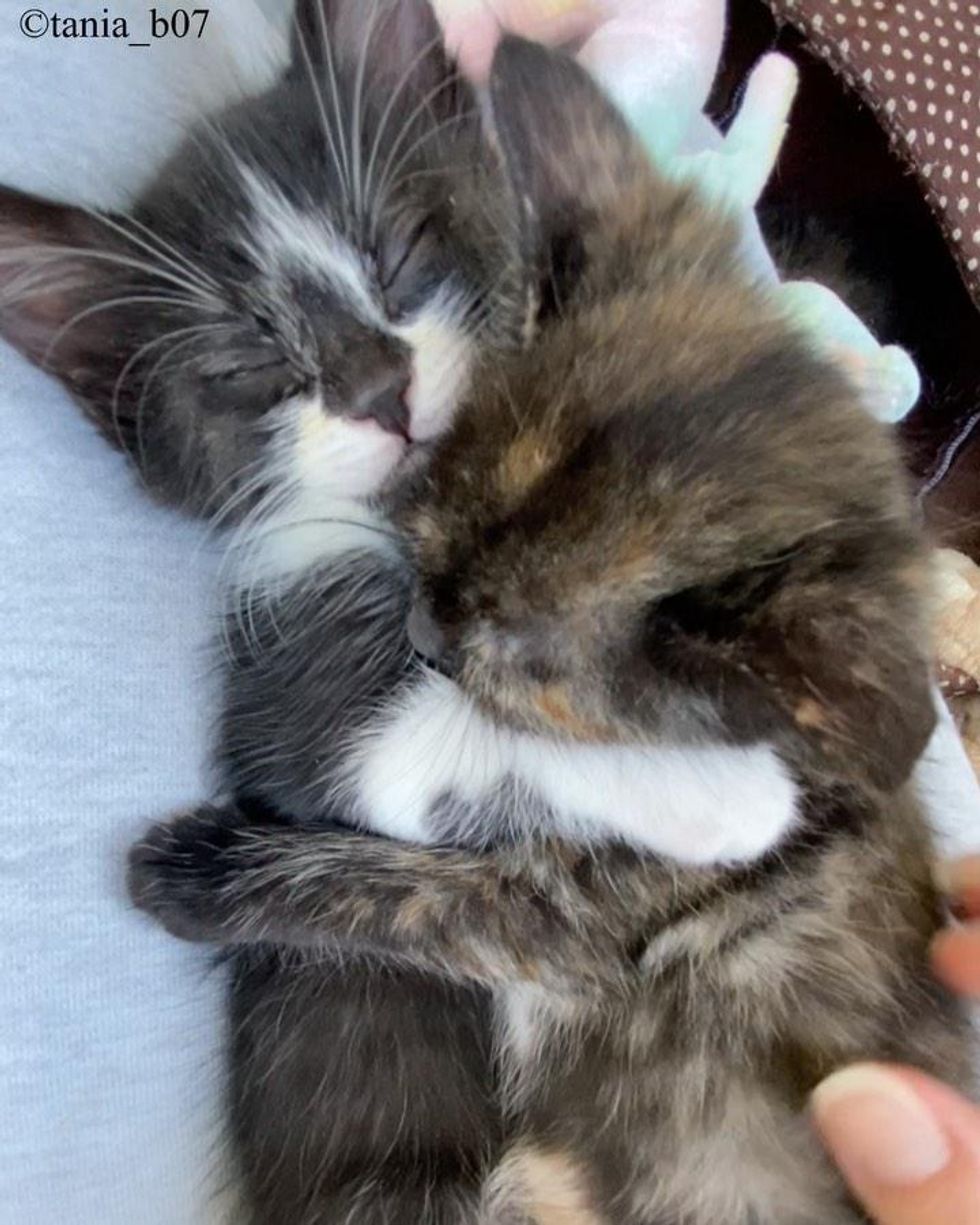 Charlie is a cuddle bugTania @tania_b07
Nova was the quiet one but loved to be cradled in her foster mom's arms. Charlie was the full-time love-bug who never ran out of hugs to give.
When the trio were big enough for adoption, they quickly had perfect homes lined up for them.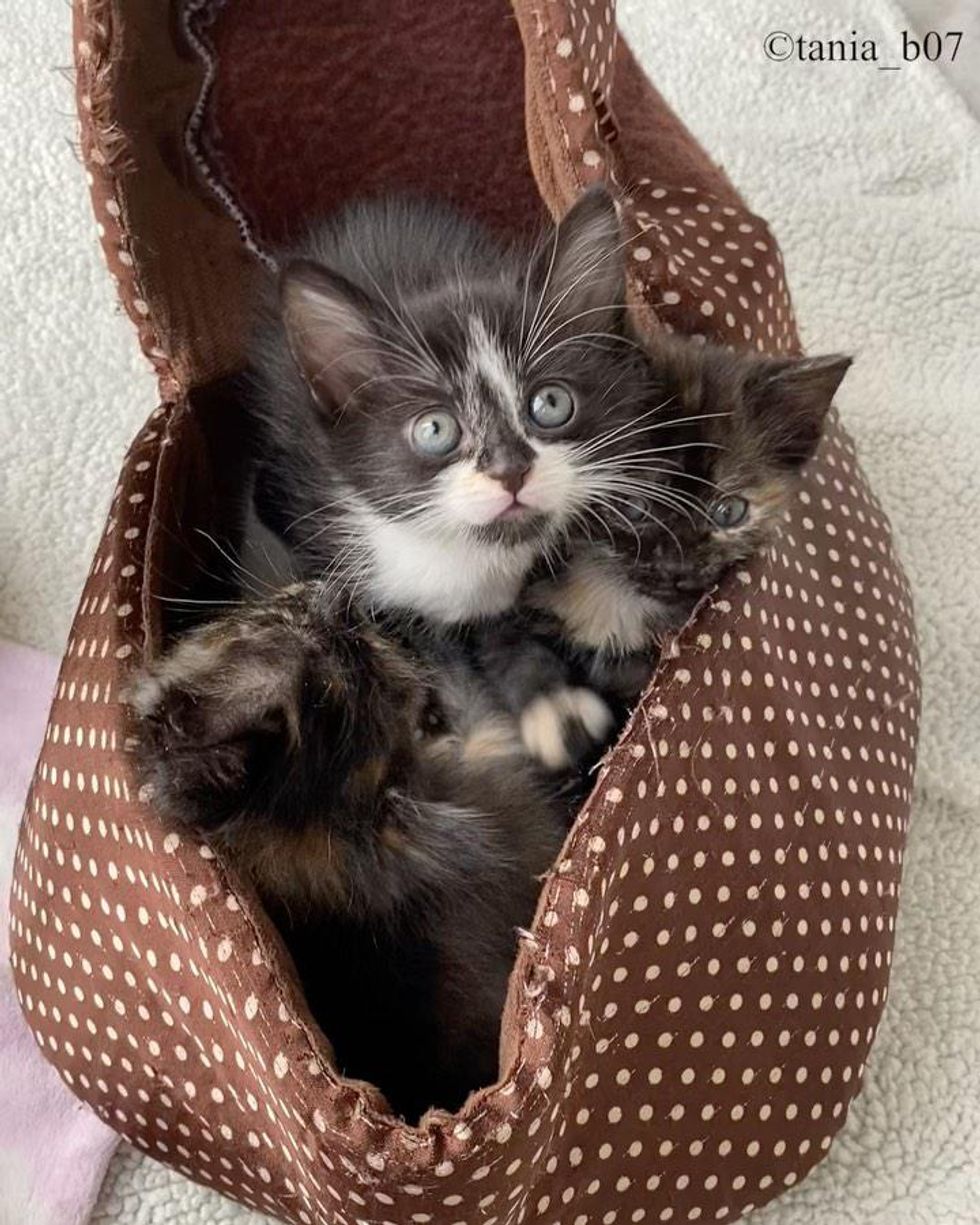 Tania @tania_b07
Suarez was snatched up by a wonderful family with an orange cat, Leo, as her forever big brother.
The two have become bonded friends after a few hisses, and Leo insists on giving his tortie sister multiple baths throughout the day.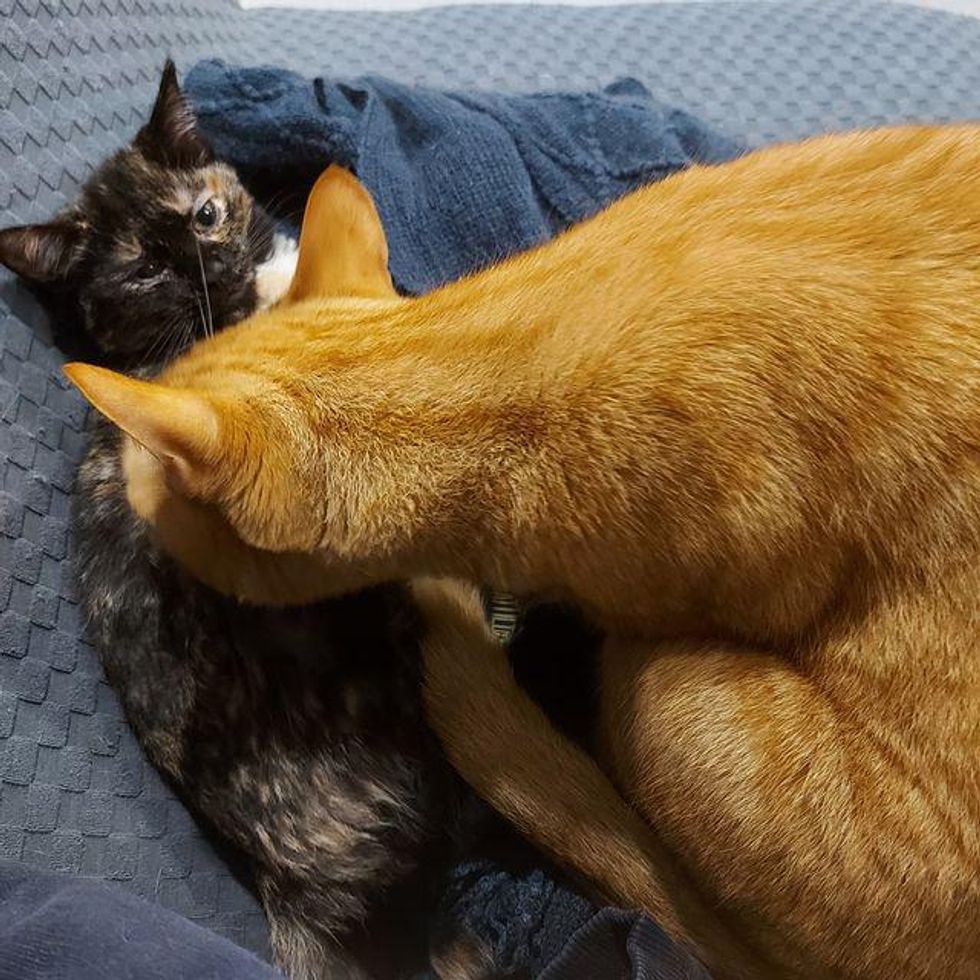 Leo tries to give sassy Suarez a bath@leoandsuarez
The two young women who cared for the kittens on the day of the rescue, came back for them. They each adopted Charlie and Nova so the brother and sister would have future play dates together.
Nova has taken to her new big brother, Milo, and spends plenty of time snuggling with him in the cat tree. Charlie the tuxedo has quickly become the ruler over his new kingdom.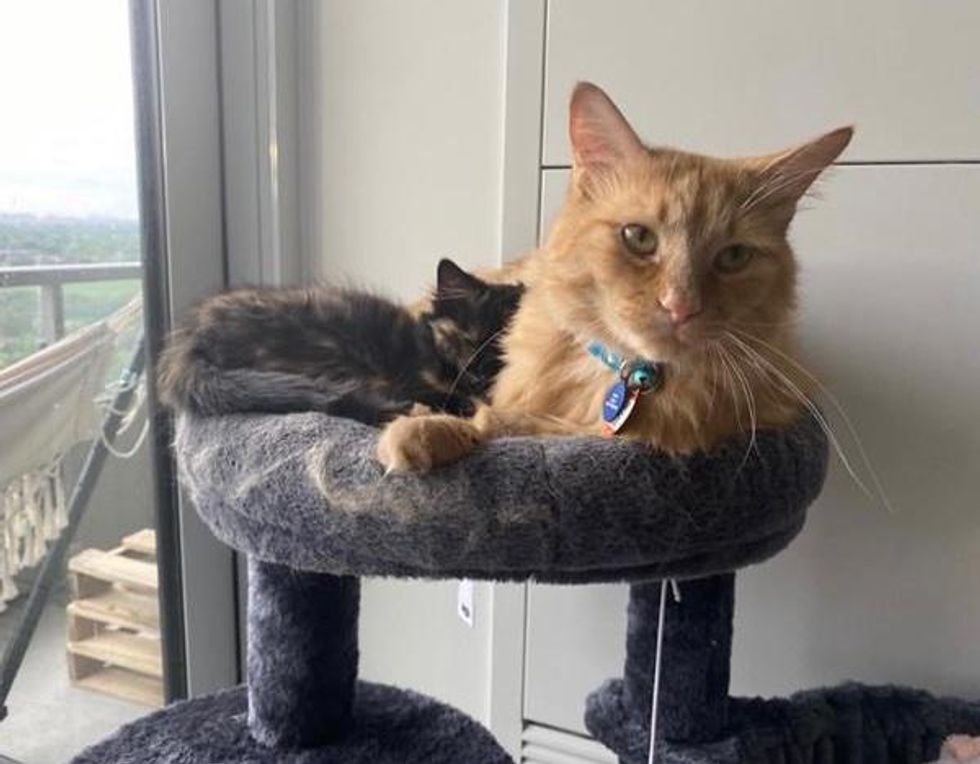 Nova and MiloTania @tania_b07
Charlie and Nova have many play dates together, and Milo enjoys having Charlie around and adores him just as much as he does Nova.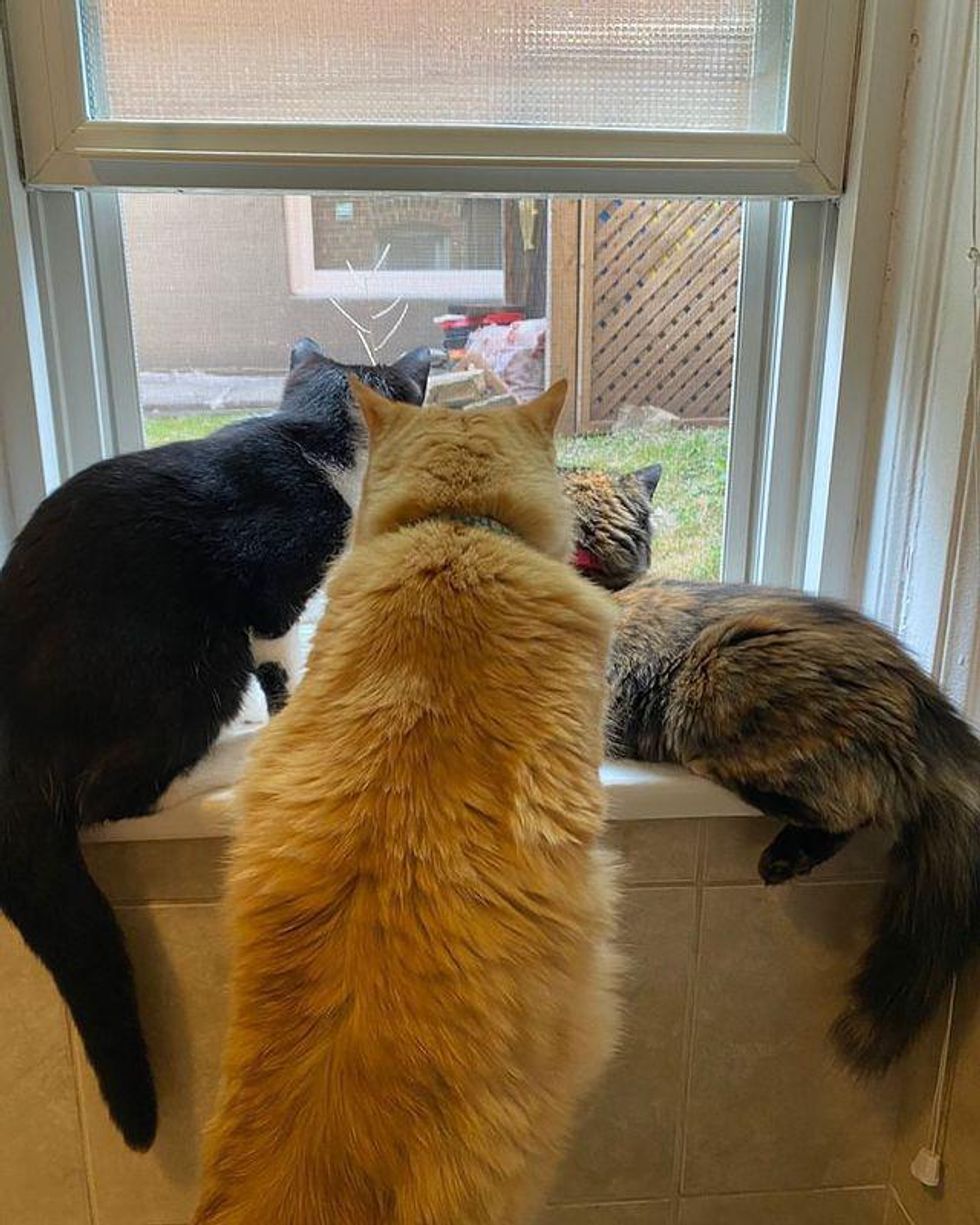 Charlie, Milo and Nova watching cat TV togetherTania @tania_b07
The kittens have grown by leaps and bounds. Nova and Suarez follow their big tabby brothers around the house and keep them on their toes.
Charlie the love-bug continues spreading hugs and snuggles, and filling any warm lap he can find.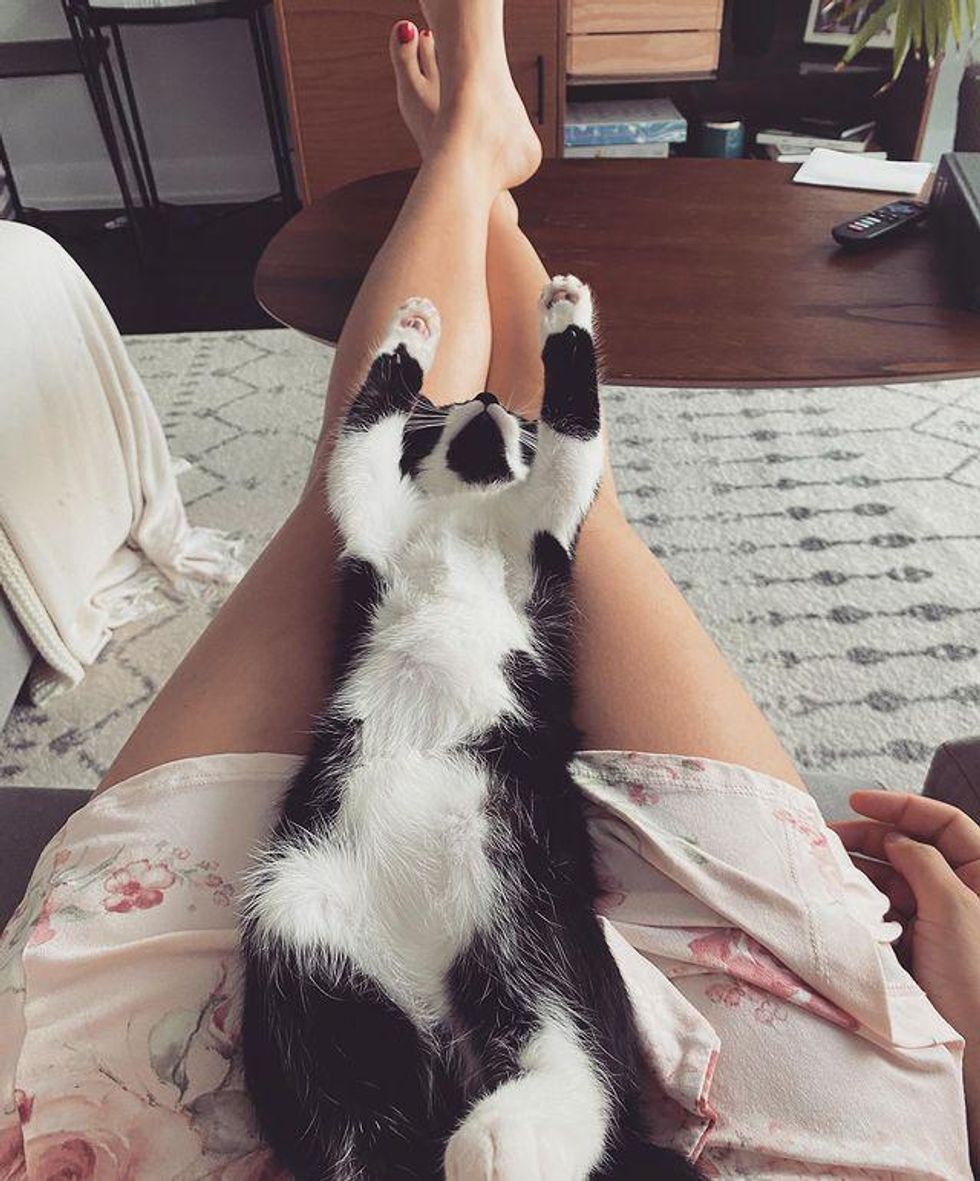 Charlie the forever lap cat@charlie.the.tuxedocat
Share this story with your friends. Follow Tania's foster kitties on Instagram @tania_b07. Follow Charlie (@charlie.the.tuxedocat) and Suarez (@leoandsuarez) on Instagram.
Related story: Tabby Kitten Nestles with Her Littermates Until Help Arrives, Now Living Everyday to the Fullest