New figures from the animal welfare charity include calls about more than 3,000 suspected beatings, 421 improper killings and more than 210 suspected mutilations
There have been 4,268 reports of intentional harm inflicted on animals during this summer, according to new figures from the RSPCA.
black cat photo
As part of its Cancel Out Cruelty campaign, the RSPCA has revealed the scale of calls about intentional cruelty that the animal welfare charity has received between June 1 and August 31.
The charity received 492,471 calls to its cruelty hotline over the Summer, including 271 calls about attempted killings, 3,059 calls about animals being beaten, 421 reports of improper killings, 181 reports of mutilations, and 304 reports of animals being harmed in suspicious circumstances.
The charity's animal rescuers dedicate their lives to helping animals who have been intentionally harmed and have dealt with some particularly distressing incidents this summer.
These have included:
A puppy lost his life after suffering fatal injuries after being seen being thrown and beaten by a group of people in a car park in Walsall on July 29 at Oak Park Active Living Centre in Walsall. Witnesses reported seeing the yelping puppy being thrown in the air and hit with a stick a number of times while surrounded by a group of around 15 people. A member of the public removed the dog's body and contacted the RSPCA. Veterinary examination of the young black and tan terrier's body showed the dog had suffered a fractured skull and broken jaw before his death.

A dog who was found dumped in a park and crawling with maggots was so badly neglected she was barely recognisable – with the person who found her initially thinking she was a pile of rags. She was found in Liverpool on July 27 after a passerby noticed some movement and when they went closer to investigate they realised it a terribly matted dog which was covered in maggots  The dog, thought to be a shih tzu, was rushed to a vet but sadly could not survive the prolonged neglect she had suffered.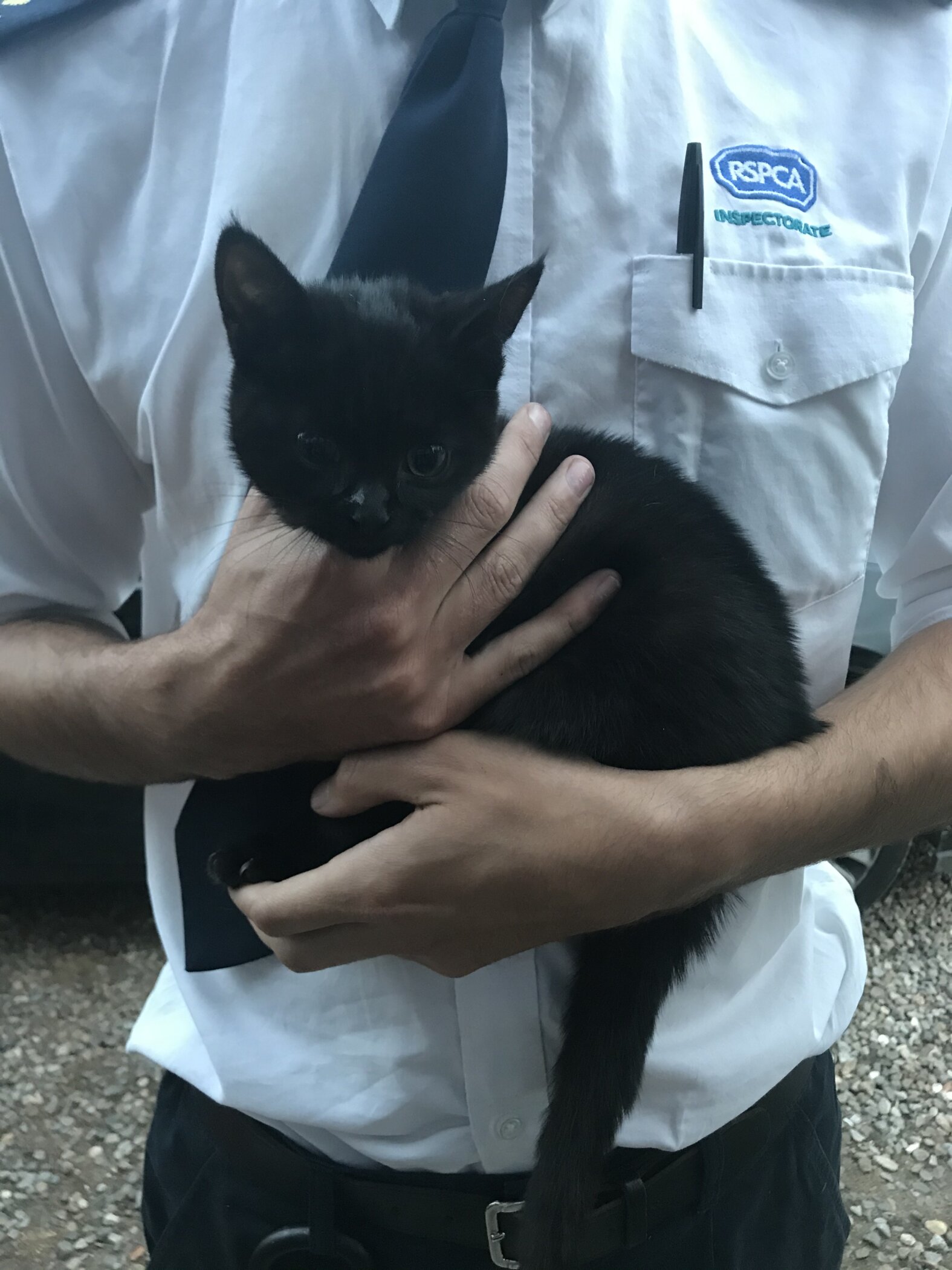 A 12-week old kitten was rescued after being found abandoned inside a backpack in some bushes in Hull on Sunday, 27 June, after a member of the public heard the cat crying from inside the camouflage-print backpack. Tests by a vet revealed she had a concussion from head trauma.

The bloodied body of a young brindle greyhound who had recently given birth was found dumped in a remote ditch in a woodland in Carlisle after suffering a blunt force trauma to her head on 23 June.

An emaciated and neglected dog was found callously dumped in Manchester street after being left tied to a tree in a park. The male boxer-type dog was found tied to a tree in Boggart Hole Clough, Blakeley, by a member of the public on June 1. He was emaciated and bobbing up and down suggesting he may have had a neurological condition and was taken to a vet's but they found he was in such poor health the kindest thing to do was to put him to sleep to end his suffering.  Staff realised the poor dog, which was not microchipped, had been neglected so they reported the matter to the RSPCA.

Three hedgehogs were found in a park in Cheshire with skull fractures in three separate incidents. Each of the hedgehogs were discovered with head injuries in Milton Park, Alsagar, with the first discovered on 28 May, one again on 31 May and the final one on 6 June. The hedgehogs, one of which was a female who recently gave birth to a litter, were taken to an emergency vet but sadly did not survive.

An underweight dog who'd recently had puppies was dumped from a car  in Southampton on July 14. The brown terrier type dog – who has been named Tina by the charity's animal rescuers – was seen being abandoned by a man in a silver BMW 3 series. The eyewitnesses contacted the RSPCA and she was rushed to a vet where she was found to be emaciated, overbred and very nervous. She also had a skin condition which had left her without patches of fur.

A skinny foal was abandoned in a terrible state on a patch of land on the edge of London on August 21. The RSPCA was called out to the little skewbald pony who'd been dumped in a field on Leatherhead Road in Chessington. Inspector Andrew Kirby, who responded to the call, described the condition of the foal he named Gerald, as "one of the worst states I've ever seen a pony in" with his emaciated body and  hooves overgrown and cracked.

A poorly puppy was found abandoned in a Durham street. The dog, thought to be a Chihuahua-type and no bigger than the size of a hand, was found crawling out of a bush by a dog-walker, barely breathing and struggling to stand on 9 August. The puppy – who was around four weeks old – was rushed to a vet but sadly she couldn't be saved.
An underweight  kitten was thrown over railway railings in a cat carrier in Ruskin Park in Lambeth, London, on 22 August. She was shivering cold and soaked through to the skin from the rain when she was rescued after a passer-by spotted her plight and contacted the RSPCA for help.  The cat, who has now been named Britney, was taken to an RSPCA animal hospital for care.
RSPCA Chief Executive Chris Sherwood said: "For our frontline officers, rescuing animals from horrific circumstances never stops. We receive more incidents of deliberate harm to animals over the summer months than any other time of year, which is heartbreaking.
"This is why we launched our Cancel Out Cruelty campaign this Summer, to raise awareness and help people to understand how they can support us to help animals in need. We are the only charity out on the frontline every day across England and Wales rescuing the animals who need us most and we're grateful to everyone who helps keep us out on the road rescuing, rehabilitating and rehoming."
During the summer months, there have also been a number of RSPCA prosecutions coming before the courts which have seen animal abusers sentenced for their crimes towards animals.
These included:
A man who subjected his dog and cats to such brutal violence they were left with fatal injuries was jailed for twenty weeks and banned from keeping animals for life.

A man was sent to prison for 16 weeks and banned from keeping animals for life after he was found guilty of physically abusing a five-month-old puppy.

Two people were handed suspended prison sentences and banned from owning equines for five years after admitting causing unnecessary suffering to an 11-month old pony. The young horse was subjected to kicks and blows and was forcibly pinned to the ground. Footage also showed them inflicting blows from a piece of piping and a riding crop.

A man was banned from keeping dogs for ten years after being found guilty of repeatedly beating and kicking his two dogs.

A man and a woman were disqualified from keeping animals for five years after they were found guilty of beating their dog and failing to have his injuries treated by a vet.
Chris Sherwood added: "There is no place for cruelty to animals in today's society and we urge anyone who has concerns for an animal to call the RSPCA's emergency line on 0300 1234 999.
We are so grateful to people who report suspected animal suffering to us. The public are our eyes and ears as we work together to help improve animal welfare and promote animal kindness."
The RSPCA's Cancel Out Cruelty campaign aims to raise funds to keep its rescue teams on the frontline saving animals in desperate need of help as well as raise awareness about how we can all work together to stamp out cruelty for good.
The charity's rescue teams need support to stay out on the frontline as the only charity rescuing animals and investigating cruelty.
£6 could help pay to feed a dog for a day in our care

£10 could help pay towards bandages for a cat or dog

£15 could help pay for a cat or dog's clinical exam

£20 could help pay towards a bird catching kit

£30 could help pay for a life jacket for an inspector

£100 could help pay towards water rescue equipment

£500 could kit out a 4×4 inspector van
To donate to the Cancel Out Cruelty campaign and help us continue to rescue animals in need, visit www.rspca.org.uk/stopcruelty.
You can also help Cancel Out Cruelty by volunteering for us, becoming a campaigner to help us change the law for animals for the better, by becoming a fundraiser for the RSPCA, by learning more about animals through our Compassionate Families programme, buying a Cancel Out Cruelty T-shirt and showing it off on social media, or by pledging to help animals in other ways, such as learning more about your pets' needs, or learning how to help wildlife.
We regularly write about all things relating to cats on our Blog Katzenworld!
My partner and I are owned by five cheeky cats that get up to all kinds of mischief that of course, you'll also be able to find out more about on our Blog
If you are interested in joining us by becoming a regular contributor/guest author do drop us a message @ info@katzenworld.co.uk .