A kitten who was found in the woods by hikers, made it to a comfortable nest after quite the journey.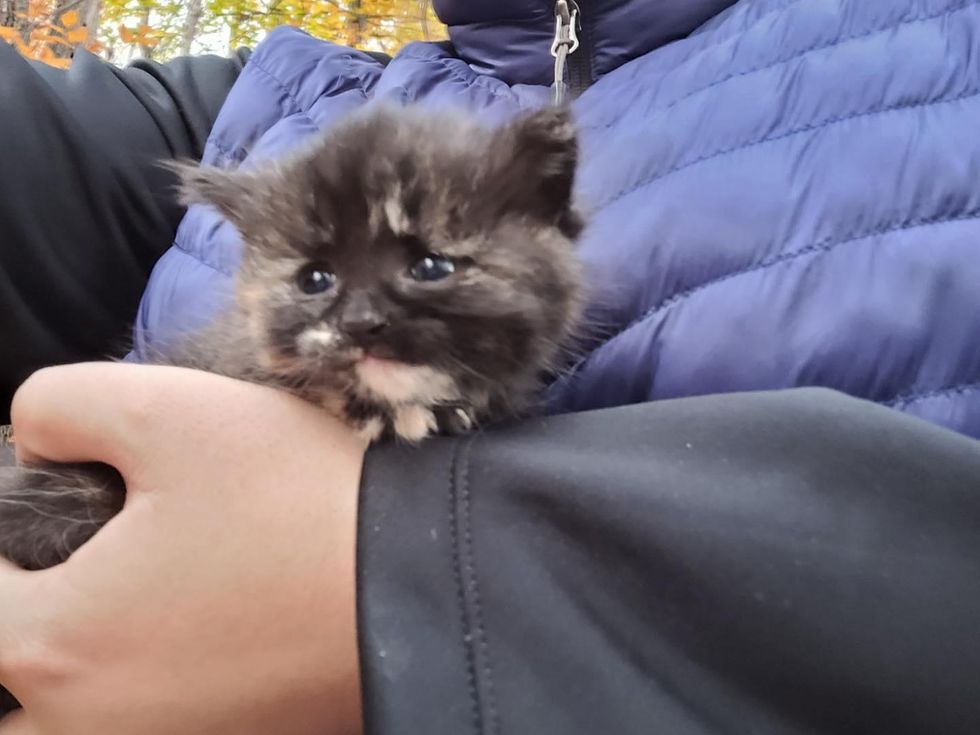 A tiny tortie kitten was found in the woods all aloneChatons Orphelins Montréal
Last week, a couple (Arianne and her partner) from Montreal, Canada went on a mountain hike when they came across a gentleman pacing around and retracing his steps.
He looked very concerned so Arianne stopped and asked to see what was going on. As it turned out, the gentleman had heard a kitten screaming in the woods but was unable to catch her.
They decided to join forces with the gentleman in a mission to get the kitten to safety. They traced the sound in hopes of finding the kitten's whereabouts. As the crying got louder, they knew that they were getting closer.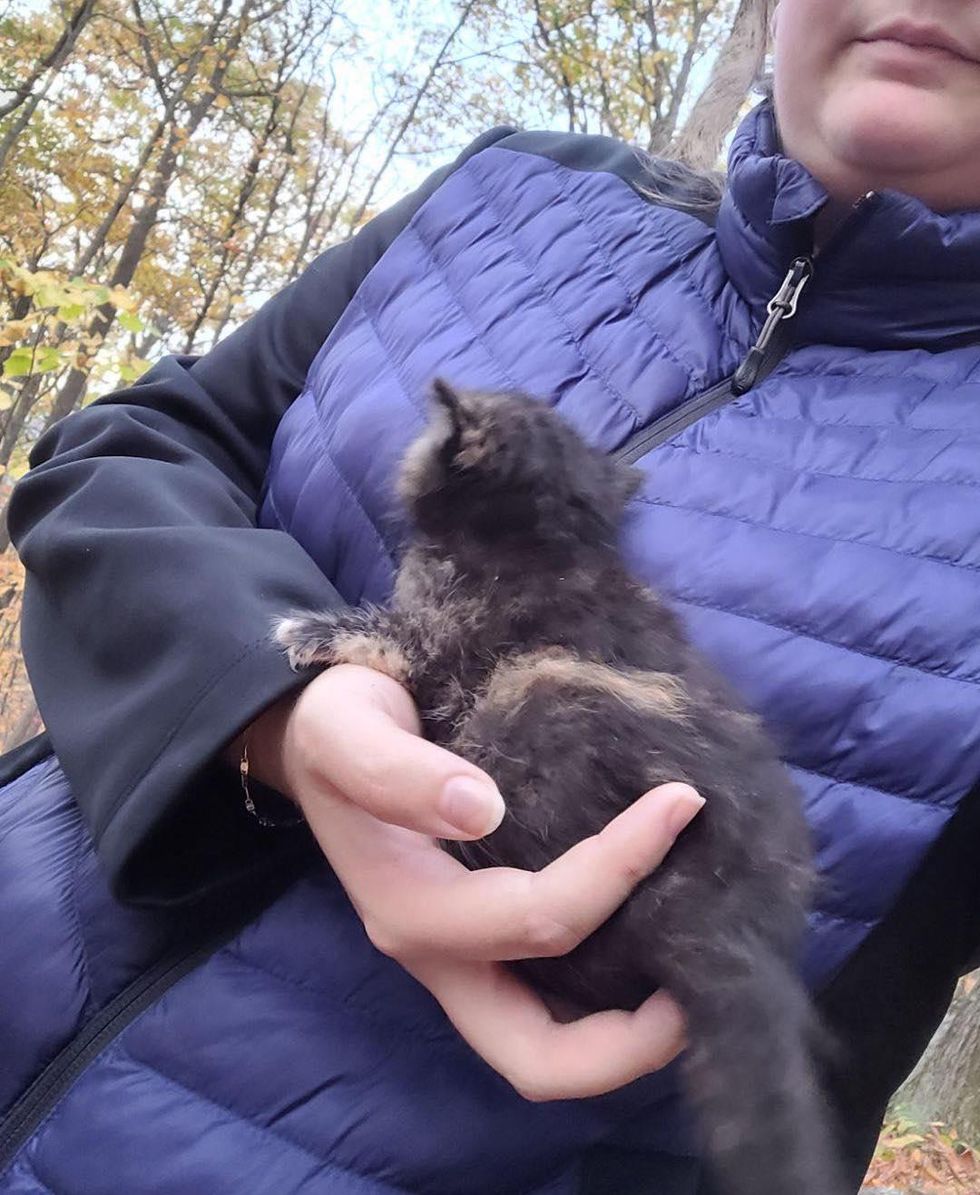 A gentleman and a couple brought the kitten to safetyChatons Orphelins Montréal
They returned to the spot where the gentleman first heard the kitten, and found the little tortie in a hiding place all alone. The kitten was a bit shaken after the ordeal, but calmed down in her human's arms. The gentleman could finally breathe a sigh of relief, knowing that she was safe.
They continued to search for other kittens and a mother cat, but couldn't find anymore. The couple wrapped the tortie in a jacket to keep her warm and secure, and brought her home.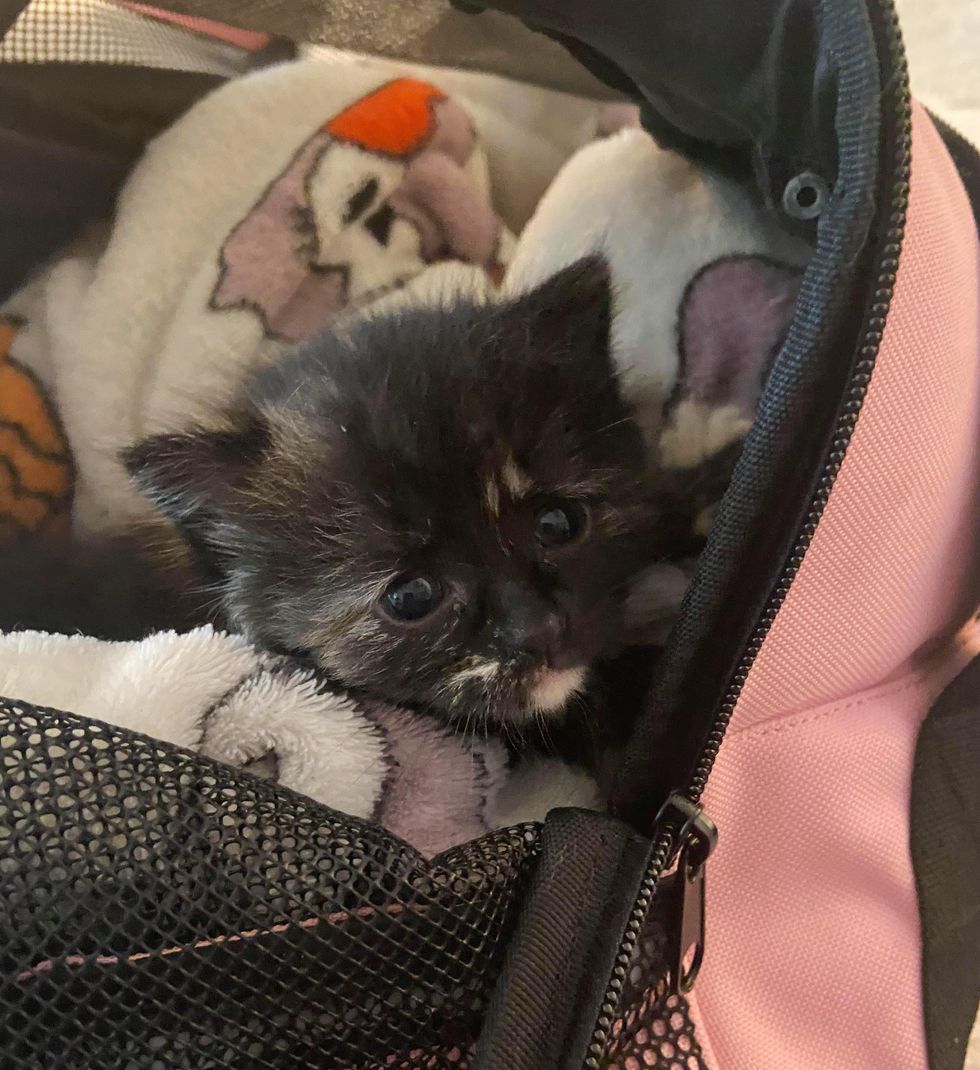 The kitten was named Clochette which means small bell in FrenchChatons Orphelins Montréal
Arianne called her friend Sarah, a volunteer of Chatons Orphelins Montréal, who immediately offered to foster the kitten.
"The kitten was named Clochette (which means small bell in French). She was four weeks old, but barely weighed 400 grams. She was very skinny and hungry," Celine Crom of Chatons Orphelins Montréal shared with Love Meow.
"She was lucky to have been found by the kind people because she wouldn't have survived alone in the woods."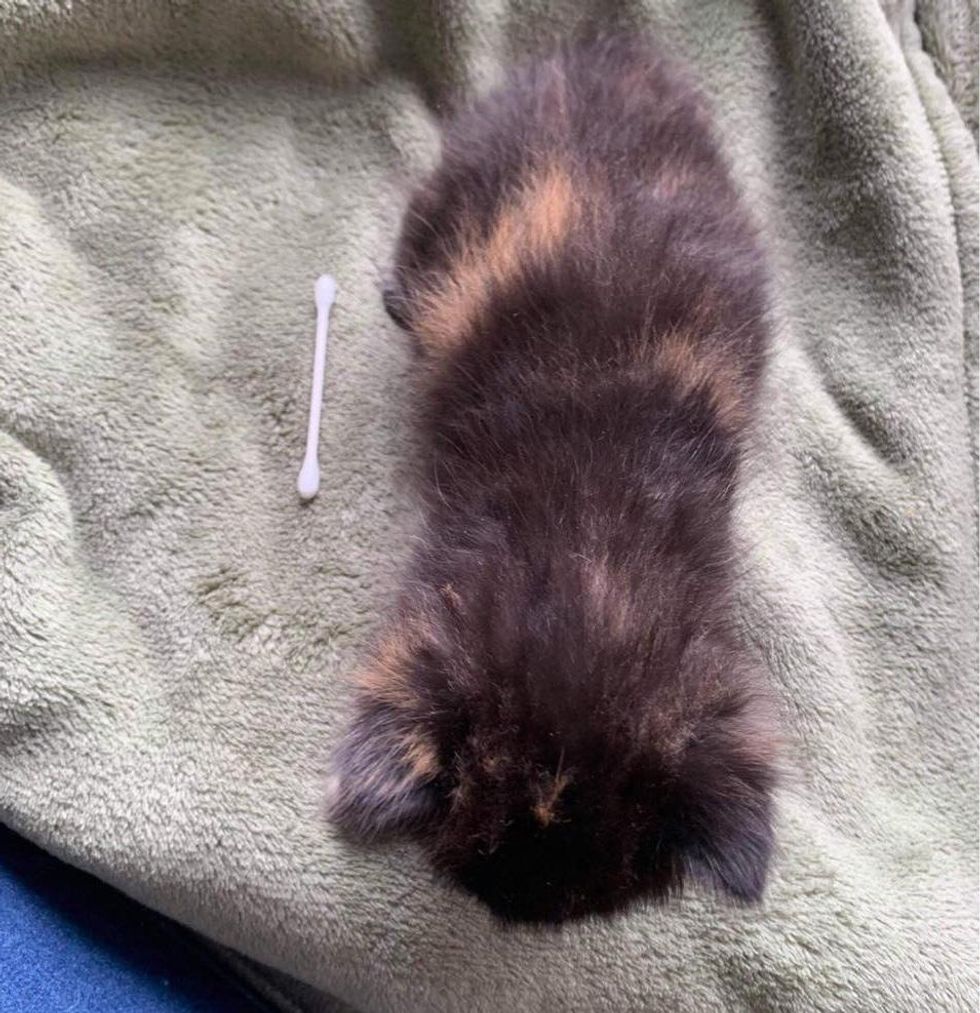 She was underweight and very hungryChatons Orphelins Montréal
Sarah the foster mom bottle fed the tortie around the clock and kept her company so she wouldn't feel alone.
"Clochette had trouble eating at first, so Sarah fed her frequently with a small amount at each feeding. The kitten responded to that really well and started to take to the bottle."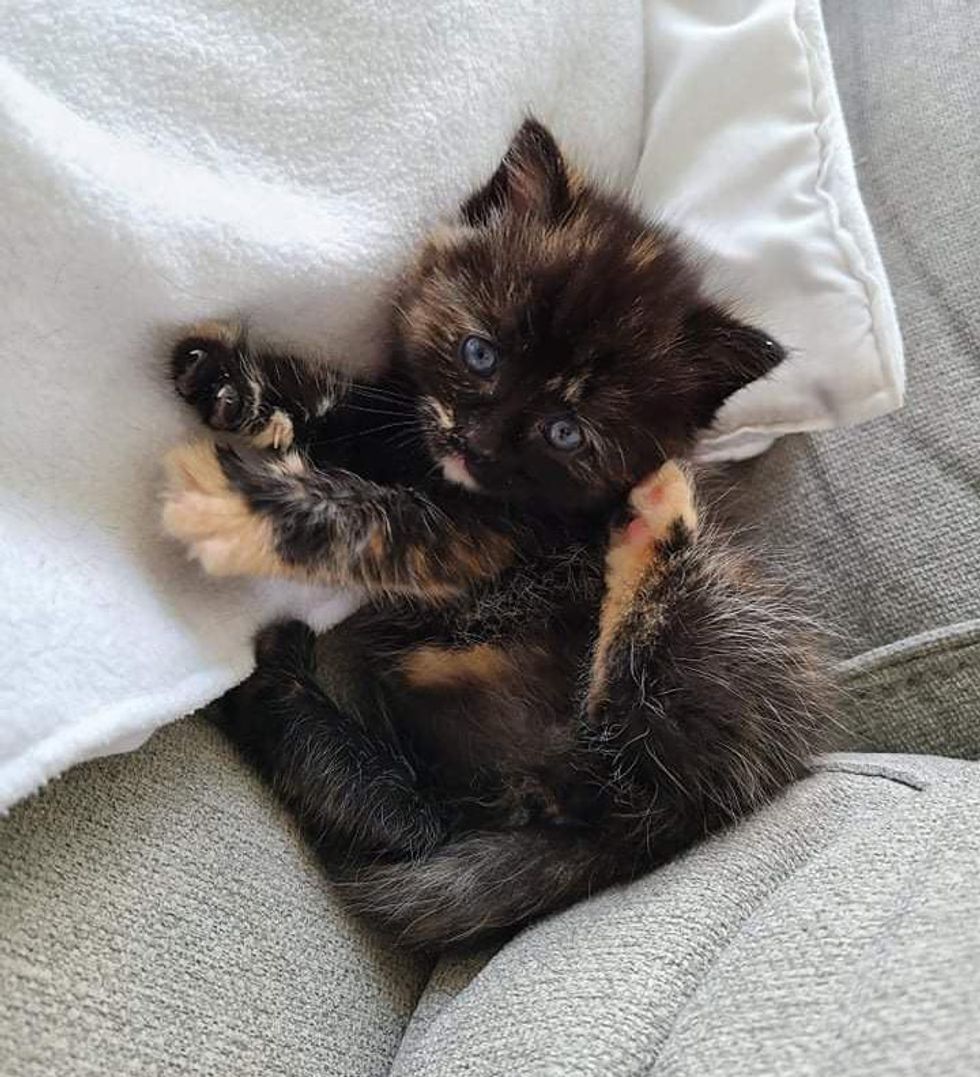 What a difference a week of good food and care makesChatons Orphelins Montréal
In just a few days, Clochette has put on some weight and gained strength. She is more alert and active, and becoming very affectionate around her people.
Watch Clochette the kitten in this cute video:

Clochette the tortie

www.youtube.com

After plenty of good food and lots of tender loving care, Clochette is up on her paws and starting to walk and explore around her nest.
She is no longer crying for attention as she is busy soaking up the love from her foster family. She is getting very curious, checking out all the new things around her.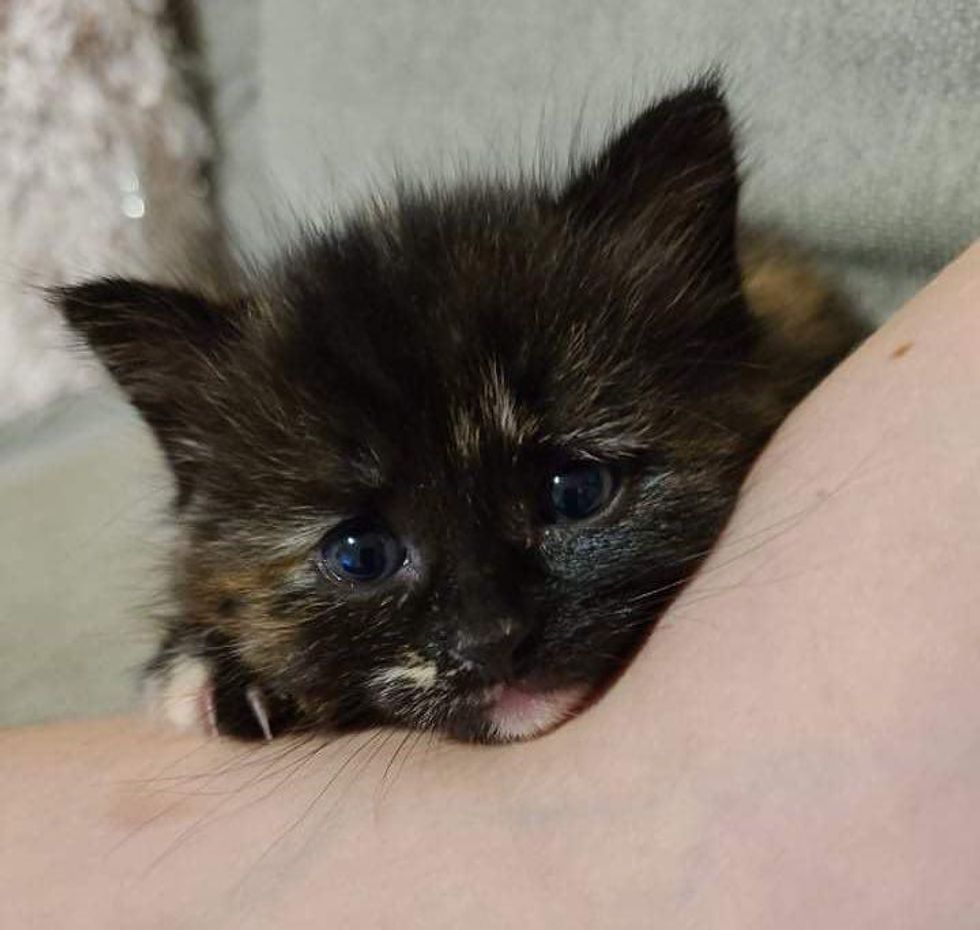 The tortie kitten has become very affectionate towards peopleChatons Orphelins Montréal
Clochette loves her VIP life as an indoor kitty and enjoys rolling around in her cozy bed layered with soft blankets.
She will waddle up to her foster mom when she hears her name called, and turn on her purr motor that she'd just recently discovered.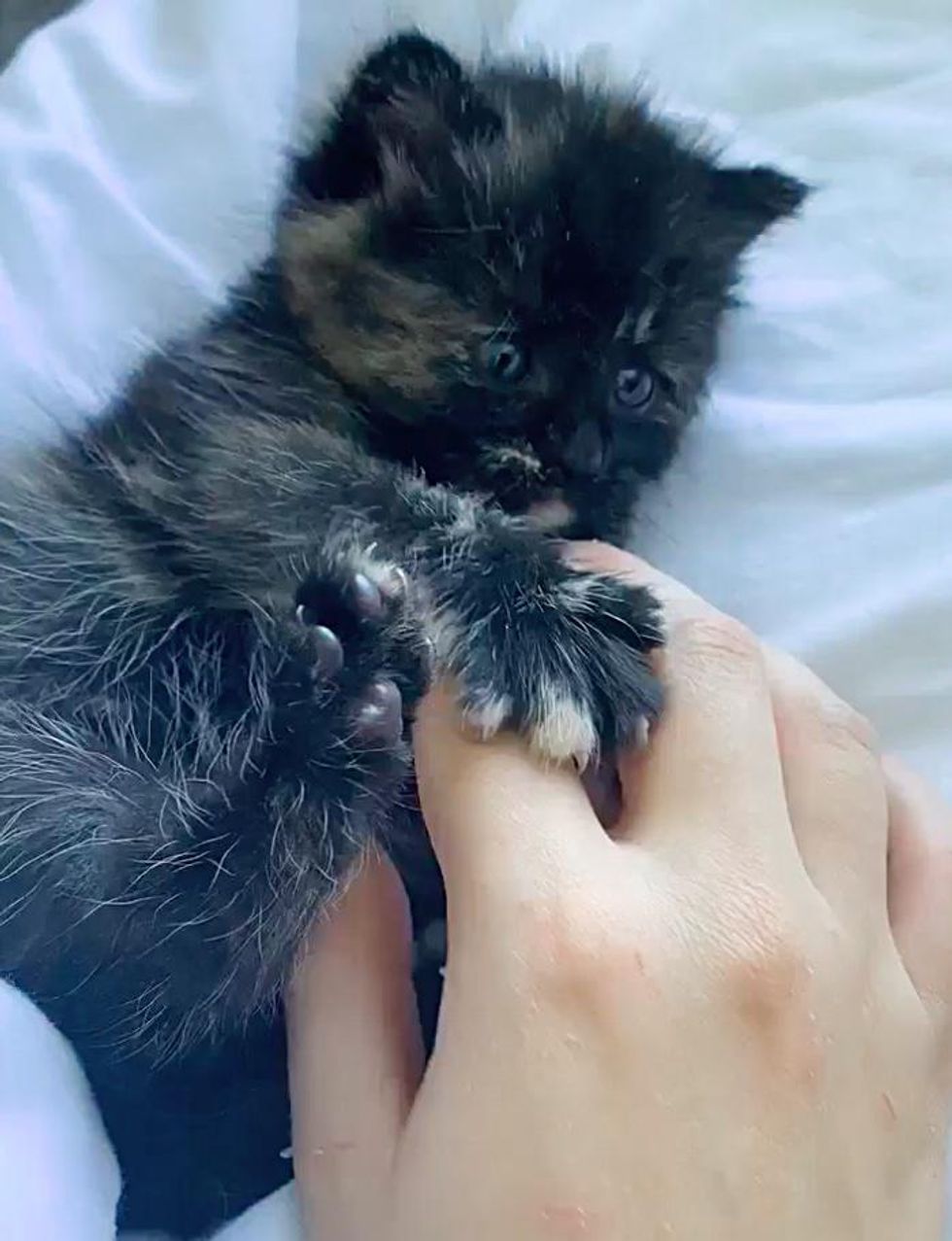 Chatons Orphelins Montréal
Nothing makes the tortie girl happier than getting her belly rubbed after a good meal. She will never have to worry about food and shelter, and is so happy to be loved and adored.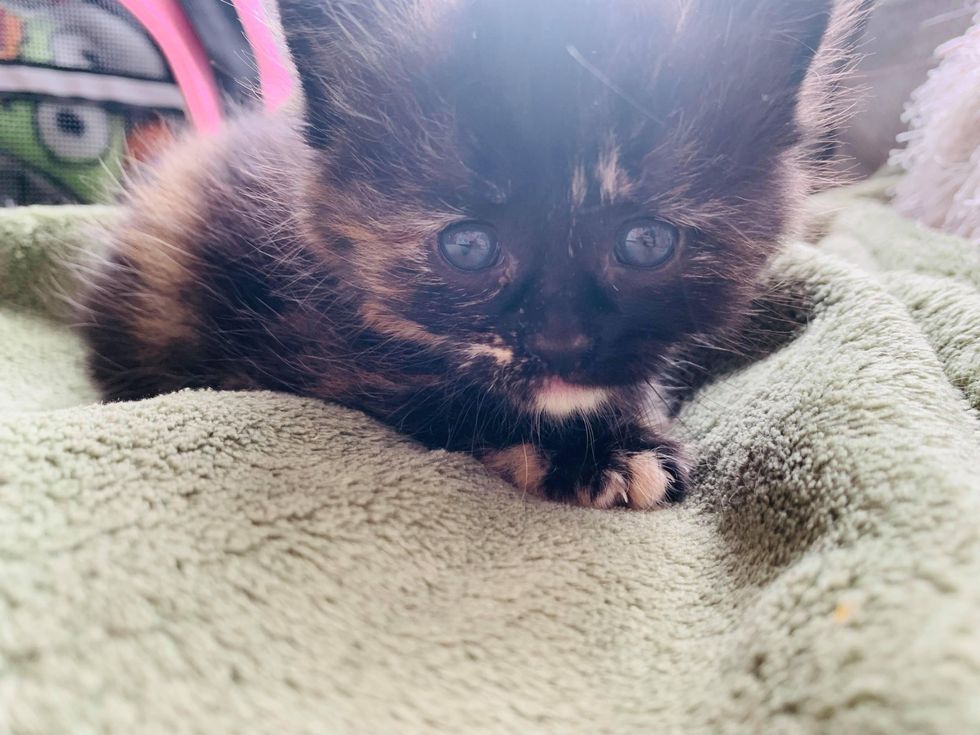 Chatons Orphelins Montréal
Share this story with your friends. Follow updates on the kitten and Chatons Orphelins Montréal on Facebook.
Related story: Kitten Determined to Walk and Lead a Happy Life After Being Brought in as a Stray