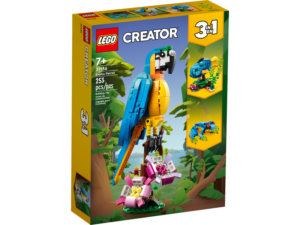 The history of LEGO® brand products is rich and varied. Starting back in 1934 (and even earlier if you recognize the ups and downs of the early starts of an emerging company), LEGO began producing assembly-enabled plastic blocks by 1949. The blocks were simple 2×4 bricks that allowed for bricking into various objects.
By 1953, the block name was changed from "automatic binding bricks" to the simpler and more product-defined "LEGO bricks." The idea was poorly received in this period and eventually, the idea of a toy system was hatched. The bricks themselves were worked on consistently to create a more solid product with solid locking together of parts. The rest is history with LEGO firmly ensconced as the leader in a mass industry of thousands of varied assembly bricks and pre-planned sets…like this new Parrot set that we're going to talk about.
User-Driven
There is a submission system in place that allows individuals who have created beautiful end products with available plastic LEGO bricks. The system allows builders to submit their build to LEGO for consideration of a mass-produced kit. Previously, one such builder submitted a plan for a Kakapo parrot kit that was rejected. But as luck will have it, they were able to create limited edition sets that were available only by mail order until sold out. This kit sold out immediately. Now LEGO is prompted to revisit a parrot build with a new kind of kit to be referred to as the Creator 3-in-1 set. Priced by complexity, these Creator 3-in-1 kits deliver three separate builds within the same box depending on how the builder feels on a given day.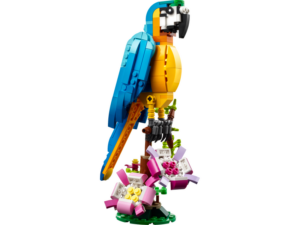 A pre-order is now available for a new 3-in-1 launch that will offer a build of a beautiful exotic parrot resplendent in blues and yellows. The parrot is perched on a branch surrounded by pink flowers. All in all, there will be 253 blocks inside the kit. But after you are finished with the parrot, you can disassemble it and use the same blocks to create a colorful frog or an exotic fish. The building kit is rated for builders aged 7 and above, making this an excellent fun toy for your young children (or grandchildren), especially if there is a parrot in the house.
What makes these toy builds more fun is that they are moveable. The parrot has a rotatable body with wings and tail that move independently for posing. The frog has posable legs, and the fish has fins that move up and down.
LEGO provides access to a downloadable app that allows the builder to rotate the pieces, zoom in, save sets, and track the progress of the build. The upcoming 3-in-1 Creator kit is launching on March 1 of 2023. You can click here to arrive at the pre-order link that also offers photos and a write-up of the kit.
Other Creator 3-in-1 kits include one with a forest owl, a rabbit, and a deer, Interestingly, this kit can also be used to create a hedgehog, and a squirrel. Like the parrot, these toys also feature moveable parts. (That can be found here.)
By all means, have fun with these!