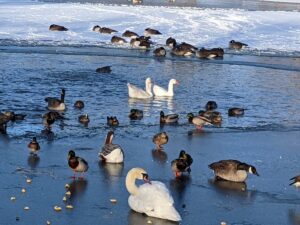 In the wilds of nature, creatures pair up in many ways. For many, there are courtships for the sake of mating. But for some, it's quite simply "love at first sight." They develop long-term monogamous relationships and stay with each other for life. There are wolves, primates, beavers, reptiles, and more that remain in relationships throughout lifespans. In the world of birds, there are barn owls, the pride of America's Bald Eagle, the swan, and geese. And we have a special story of a female goose whose long-time mate has died leaving her to become forlorn.
In Riverside Cemetery, located in Marshalltown, Iowa, a pair of geese had lived for a long time as a couple. Affectionately named Bud and Blossom, they made their home on the lake within the confines of the cemetery. They often wandered to the front office in search of extra food and love. Unfortunately, Bud passed away in August of 2022. This left Blossom wandering the cemetery sadly, often coming to the front office and watching her reflection in the glass of the windows and tombstones that have reflective surfaces. Her demeanor had changed, and it was clear to the staff that Blossom was exhibiting grief, loss, and loneliness. After a time, it was evident that something needed to happen.
Blossom Finds Love Again
The staff decided on the tried-and-true method of personal ads. The ad stated that "a lonely, widowed domestic goose" was looking for a "life partner for companionship." It wasn't long before the ad was answered by a couple who had a recently widowed male goose. They called the park, and the two paired up on Valentine's Day. What occurred was surprising as much as it was life-changing. The new goose, named Frankie, was introduced to Blossom. Blossom meandered up to Frankie, and the pair simply began to walk off together. Since then, they have become inseparable.
This story has gone viral, being addressed in many news services and pages. The Facebook page for Riverside Cemetery has no shortage of photos, anecdotes, and videos of the pair walking in and around the lake. The new couple (as were the old couple) is the pride and joy of the staff and park, something that we adore. If you visit the page, you will find every news item released, and every proud photo depicting them. And beautiful they are. The previous owners of Frankie occasionally visit him. He is excited to be near them when they arrive. But love, being what it is, the story of Bud and Blossom has come to a close, but happily, the story of Frankie and Blossom is just beginning.
We wish the new couple the absolute best!