Webinar: Avian Vet Insider—Free Feeding or Meals — What is Best for Parrots?
Date: Friday, May 12, 2023
Time: 12:00 pm PDT (double-check your local time with this time zone converter)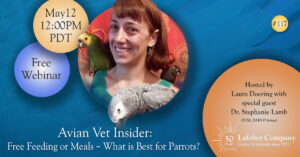 Join us for a FREE, live, interactive webinar hosted by Laura Doering, former editor of Bird Talk magazine and Birds USA magazine. Our special guest, Dr. Stephanie Lamb, DVM, DABVP (Avian Practice), will discuss a new trend of feeding meals to parrots, where they only have access to food for each meal rather than free feeding – having food available at all times. Dr. Lamb will explain the major benefits of free feeding and why it fits more with their physiology in this insider's view of the daily happenings at your Avian Vet's clinic.