Webinar: Avian Vet Insider—Free Feeding or Meals — What is Best for Parrots?
Date: Friday, June 23, 2023
Time: 12:00 pm PDT (double-check your local time with this time zone converter)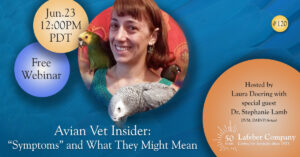 Join us for a FREE, live, interactive webinar hosted by Laura Doering, former editor of Bird Talk magazine and Birds USA magazine. Our special guest, Dr. Stephanie Lamb, DVM, DABVP (Avian Practice), will discuss why a vet visit is in order whenever your bird exhibits any type of symptom, or change in behavior, appetite, or appearance. While it might seem like it would be easy to know what is wrong based on a symptom, in most cases, there is a long list of possibilities. Some examples of "What is wrong with my bird" begin with "My bird is limping", "My bird stopped eating", My bird suddenly can't fly", "My bird's eye won't open" or "My bird only wants to sleep". The Clinic staff's challenge is to help a bird owner understand that the Vet must see the bird & tests must be run in order to know how to help the bird. Dr. Lamb will go over some seemingly simple symptoms and some of the possible causes to help you understand the complexities of diagnosing a bird in this insider's view of the daily happenings at your Avian Vet's clinic.