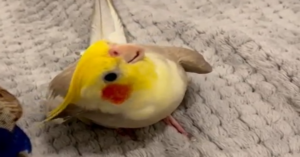 It's no secret that we share a profound love of the vocal abilities of exotic birds. And one of the most fun of them all is when they sing. Each bird has their quirky musical preferences and often sings them out with gusto. Sometimes they add a nice groove of dance to go along with it. But when you have a creative human, who finds a unique and entertaining way to blend the vocals of a cockatiel, well…you get something that is impossible to shake off. This is the story of David Scott who has recently produced a song with the interesting vocal track of Ginger. Ginger was found on TikTok and Instagram with a video that gave David Scott a musical idea.
Music to His Ears
David Scott is known musically as The Kiffness. With his abilities, he is known for taking unusual animal vocalizations and creating electronic tracks that entertain those that subscribe to his YouTube channel. His channel has almost two million subscribers who anxiously await each of his collaborative productions. Not long ago, with a completed Ginger video, David Scott uploaded the song to his The Kiffness channel and not long after, the video was racking up a ton of hits.
David Scott searches Instagram and TikTok animal videos and uses instruments like keyboards, ukeleles, and guitars to create a song that has a sweet spot. David Scott, in referencing the Ginger video says, "the duo is here to save humanity with its anthem." The lyrics include lines such as: "the song has a supernatural ability to cure any sadness for you and me," and "everybody's singing the keekoo kee, restoring our faith in humanity." Ginger was found on TikTok wondrously grooving to its own lyrics of "keekoo keekoo." The finished Kiffness production is not to be missed.
Birds Dig It Too
And don't think for a minute that The Kiffness with Ginger only entertains humans. In the comment sections of this specific video, one owner of a Quaker parrot says that his bird is hypnotized by this video. If in another room and this video comes on, the parrot will immediately fly into the room to watch it. Another comment states that his own cockatiel is into it so much that he himself must listen to it on headphones lest his bird gets involved. In just one month, the video had generated almost 3 million views and encouraged almost 3,500 comments. Watch The Kiffness with Ginger the Cockatiel sing the song, "Kookee Kookee" (Club Anthem). But be warned, it is a contagious song, which could very well not only have you return to it numerous times but may also stick in your head for some time to come.
While you're visiting the Kiffness YouTube channel be sure to take in a few of his other video and song creations, all of which will certainly entertain leaving behind an infectious vibe.