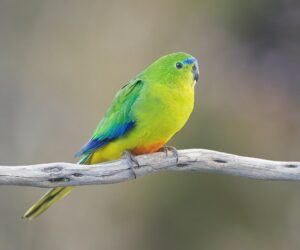 Volunteerism is an important element of advancing conservationist efforts for many creatures, including our beloved parrots. When one donates a portion of life to helping animals live more efficiently and more easily, an immovable sense of contribution is implanted within us that lives long after the efforts have transpired.
This is especially true when said efforts resulted in better solutions. The Tasmanian government has been actively involved in many programs of conservation that extend not only to other areas but also to the plight of their birds in the wild. This includes caretaking in their various parks and locations that monitor animals that are under consistent observation. One of these is the orange-bellied parrot (Neophema chrysogaster).
The Orange-Bellied Parrots Declining Numbers
The Tasmanian government initiated the Monitoring Program for the Orange-bellied Parrot in 1990. The bird itself is under extreme concern as Critically Endangered by the IUCN (International Union of Conservation of Nature. At one point, the number of wild, Orange-bellied parrots numbered only 14 in 2017. Since, and with extreme measures of conservation, that number has risen to 192 at the end of their last breeding season. Orange-bellied parrots live in the southwestern region of Tasmania to breed before heading north in their migratory pattern. With express concern for these almost extinct birds, the government of Tasmania requests volunteers in their program yearly for the upcoming sessions.
Volunteers Wanted
The prolonged responsibility of monitoring takes place between September 2023 and April 2024. They place applications for monitoring duties and vet their applicants on reliability, interest, and enthusiasm. The application is located here and must be submitted by August 2 for evaluation. The link for the application can be downloaded here and submitted to this email address.
For the responsibilities required, the volunteer is asked to do two to four consecutive weeks at Melaleuca, where, for now, is the only breeding place for the parrots. There, they are asked to observe and record the Orange-bellied Parrots along with other birds as encountered. Volunteers are asked to provide supplementary feed, clean feed tables, and manage remote cameras that are so important to the monitoring process.
Within the scope of the program, the government maintains nesting boxes, and other necessary things that help to allow the Orange-bellied parrot to ably increase their numbers.
So, what makes this volunteer program so special? Well, not only will you be able to take in the beauty of the South-west of Tasmania, but you're also able to become an important part of the saving of the ultra-rare and beautiful, Orange-bellied Parrot in the hopes that their standing can be readjusted to better numbers. Our hope is that if you apply to the program, you can be blessed with your efforts. Even better, you can take a friend.