Webinar: Avian Vet Insider: ExoticsCon – What's New in Avian Medicine?
Date: Friday, September 15, 2023
Time: 12:00 pm PDT (double-check your local time with this time zone converter)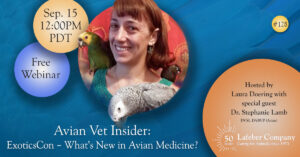 Join us for a FREE, live, interactive webinar hosted by Laura Doering, former editor of Bird Talk magazine and Birds USA magazine. Our special guest, Dr. Stephanie Lamb, DVM, DABVP (Avian Practice), will discuss important topics presented at the recent ExoticsCon 2023, a Veterinary conference focusing on Exotics Medicine. Top exotics-medicine veterinarians from all over the world presented new findings and treatments, as well as ongoing research. This type of conference is important for specialty vets to maintain their diplomat status and to continue to be on the cutting edge of exotics medicine. Dr. Lamb will walk us through her experiences at the conference as an exotics Vet, as well as the incoming President of the Association of Avian Veterinarians in this insider's view of the professional life of an Avian Veterinarian.