iHeartCats is reader-supported. When you buy via links on our site, we may earn an affiliate commission at no extra cost to you.
The allure of cat video games has seen a remarkable evolution, capturing the essence of our feline friends in myriad ways, drawing both pet lovers and gaming aficionados into their virtual realms. From haunting narratives and dystopian explorations to whimsical backyard antics, these games span a range of genres and gameplay styles. This expansive domain offers players heartwarming stories, thrilling challenges, and serene moments of relaxation, allowing every cat enthusiast a digital journey tailored to their taste.
Whether it's pixelated adventures or vast open-world sagas, the imaginative world of cat-centric gaming beckons with its charm and diversity. And we've curated a list of the best cat video games for those who love the feline life and the gamer way.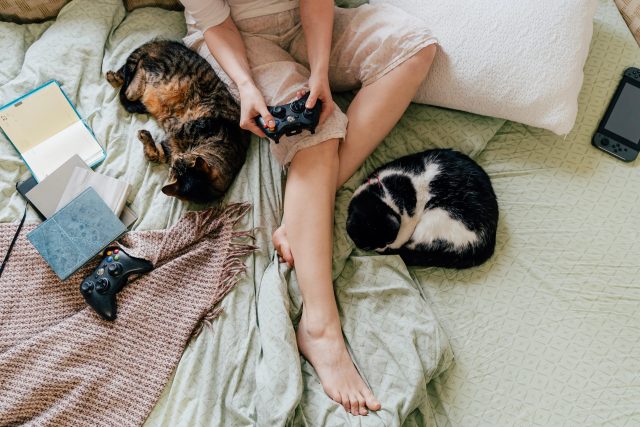 Buyer's Guide: What Factors to Consider When Choosing A Cat Video Game
Choosing a cat video game (or any video game, for that matter) requires some consideration based on your preferences, platform, and intended experience. Here's what to think about:
Gameplay Style: What type of cat video game are you looking for?

Adventure: Explore vast worlds or stories as a cat character
Simulation: Live the life of a cat
Platformer: Jump and climb through levels
Puzzle: Solve cat-themed puzzles
Arcade/Action: Fast-paced games that require quick reflexes

Art Style & Graphics:

Realistic: Detailed graphics that mimic real life
Cartoony: Light-hearted and fun
Pixel Art: Retro-style games reminiscent of earlier gaming eras
Abstract: Unique interpretations and designs that might not look like traditional cats

Story and Theme: Some players enjoy a rich narrative, while others prefer more gameplay-centered experiences. Check if the game has an intriguing story that interests you.
Target Audience: Is the game intended for children, adults, or all ages? This can affect the complexity, content, and overall tone of the game.
Reviews and Ratings: Look at player reviews and ratings to get an idea of the game's quality and potential issues.
Platform: Make sure the game is available for your preferred gaming system (e.g., PC, PlayStation, Xbox, mobile, etc.).
Price: Set a budget for how much you're willing to spend. Remember to also check if there are in-game purchases or additional downloadable content (DLC).
Multiplayer vs. Single Player: Do you want cat video games you can play with friends, or are you more interested in a solo experience?
Replayability: Some games offer a lot of content and modes that can be played multiple times, while others might be shorter and more linear.
Developer Reputation: Well-established developers or indie developers with a strong track record might produce more polished and engaging games.
Updates and Support: Especially relevant for newer games. Check if the developers are active in providing updates, patches, or additional content.
Demos and Trailers: Watch trailers, or better yet, play demos if available. They'll give you a good idea of the game mechanics and whether you'll enjoy the game.
Consider these factors, and you'll be set to choose the cat video games that align best with your preferences and expectations.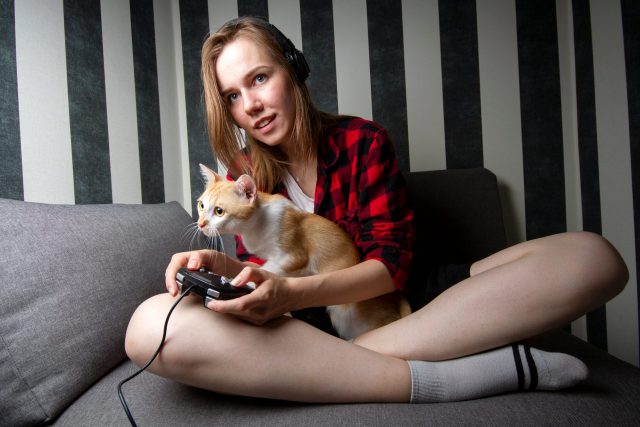 Our 10 Favorite Cat Video Games Available On Amazon
#1 – Stray (PS4, PS5,
Xbox One, Xbox Series X/S,

and PC)

"Stray" offers players a mesmerizing journey through a neon-lit cyberpunk city from the unique perspective of a feline protagonist. Navigating this dystopian urban landscape, the game marries exploration, puzzle-solving, and atmospheric storytelling, setting it apart in the realm of cat video games. The rich graphics and intriguing world design captivate and promise numerous interactions and discoveries.

Pros:
Fresh setting and perspective in the genre
Engaging visuals and world design
Potentially deep and engaging narrative
Diverse range of NPCs and interactions
Cons:
Gameplay and narrative depth subject to individual preferences
Might have a niche appeal due to its distinct concept
#2 – Night in the Woods (PC, PS4, Xbox One, Nintendo Switch)
"Night in the Woods" is a heartwarming blend of exploration, platforming, and narrative. Players are plunged into Mae Borowski's world, filled with hand-drawn visuals and relatable challenges. The game's strength lies in its storytelling, touching on genuine emotions and societal issues, though it might be considered slow-paced by some.
Pros:
Deep and relatable storyline
Unique art style
Memorable characters and dialogue
Touches on real-world issues
Cons:
Slow pacing might not appeal to all
Lack of "traditional" gameplay elements for some
#3 – Cat Quest (PC, PS4, Xbox One, Nintendo Switch, Mobile)
Set in a vibrant world of feline adventures, "Cat Quest" offers players a delightful action RPG experience for those seeking the best cat video games. From battling monsters to engaging in side quests, there's no shortage of activities. This cute cat video game's charm is undeniable, but after a while, some may find its structure a tad repetitive.
Pros:
Simple yet engaging gameplay
Lighthearted and humorous narrative
Bright and charming graphics
Suitable for a range of ages
Cons:
Can become repetitive over time
Might be too simplistic for hardcore RPG fans
#4 – Cat Quest II (Various platforms)
"Cat Quest II" continues the feline adventure, but this time, with the added twist of a canine companion. The game shines with its co-op gameplay, vast world, and refined combat mechanics. It's enjoyable as a solo endeavor but reaches its pinnacle when played with a friend.
Pros:
Accessible to newcomers and veterans alike
Engaging co-op experience
Improved combat mechanics from its predecessor
Rich world filled with lore and quests
Cons:
Some might find the story less engaging than gameplay
Co-op is local only, no online multiplayer
#5 – Gato Roboto (PC, Nintendo Switch)
A delightful blend of metroidvania exploration and quirky charm, "Gato Roboto" has you maneuvering a cat inside a mech suit. This black and white pixel-art adventure is filled with challenges, upgrades, and humor. Its compact gameplay makes for a fulfilling experience, but its brevity might leave players wanting more. It makes our list of the best cat video games for it's old school gaming charm.
Pros:
Tight and responsive controls
Charming humor and design
Suitable difficulty curve
Engaging world and secrets to uncover
Cons:
Relatively short gameplay duration
Limited color palette might not be for everyone
#6 – Kitaria Fables (Various platforms)
In "Kitaria Fables," players find themselves amidst an action RPG set in a world blending magic, farming, and combat. The serene landscapes of Canoidera beckon, allowing players to cultivate crops, nurture relationships, and defend against encroaching darkness. The game's blend of farming and combat mechanics offers a delightful hybrid experience, even if some elements might not be as deep as genre veterans might hope.
Pros:
Charming visuals and world design
Smooth integration of farming and RPG elements
A variety of quests and activities
Suitable for a range of players
Cons:
May lack depth in certain gameplay elements
Story might seem predictable to some
#7 – The Sims 4 – Cats & Dogs Expansion Pack (PC)
For fans of the Sims and cat video games, elevate the life simulation experience with "The Sims 4 – Cats & Dogs Expansion Pack." This expansion lets players delve into the joys and challenges of pet ownership. From customizing the look of pets to managing their behaviors, it adds layers of depth to the base game. Whether you're running a vet clinic or simply enjoying the companionship of a furry friend, this expansion captures the essence of the human-pet bond.
Pros:
Extensive customization options
Adds emotional depth to the Sims experience
New gameplay mechanics with the vet clinic
Realistic pet behaviors and interactions
Cons:
Might be resource-intensive on certain systems
Some players might desire more pet-related activities
#8 – Little Friends: Dogs & Cats (Nintendo Switch)
"Little Friends: Dogs & Cats" brings a pocket-sized pet simulator to the Nintendo Switch in the form an cat video game. Players get to care for, play with, and train their virtual furry companions, all rendered in delightful graphics. It's a soothing experience, reminiscent of older virtual pet and cat video games, but with modern enhancements, even if it might not provide the deep simulation some expect.
Pros:
Easy-to-grasp gameplay
Vibrant graphics and animations
Offers a sense of companionship and responsibility
Wide range of activities and mini-games
Cons:
Might lack depth for players seeking a detailed simulation
Some might find it repetitive over time

Final Thoughts on Cat Video Games
In the diverse landscape of gaming, cat video games have carved a niche that resonates deeply with players, offering both escapism and familiar comfort. As we've journeyed through this captivating realm, it's evident that the whimsy and depth of our feline companions can be experienced in countless digital narratives. Embracing these titles not only celebrates our love for cats but also showcases the rich tapestry of stories and experiences that the gaming world has to offer. Happy gaming!
iHeartCats is reader-supported. When you buy via links on our site, we may earn an affiliate commission at no extra cost to you.