Webinar: Avian Vet Insider: Geriatrics – Is My Parrot a Senior & What Should I Do?
Date: Friday, October 6, 2023
Time: 12:00 pm PDT (double-check your local time with this time zone converter)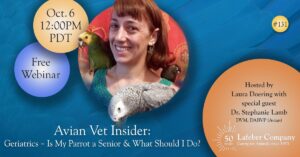 Join us for a FREE, live, interactive webinar hosted by Laura Doering, former editor of Bird Talk magazine and Birds USA magazine. Our special guest, Dr. Stephanie Lamb, DVM, DABVP (Avian Practice) & President of the Association of Avian Veterinarians, will discuss what might define a bird as older or senior or geriatric. What should you as an owner watch for? Should you feed your senior or geriatric parrot a special diet? What are some common ailments that can affect senior parrots? Dr. Lamb will answer these questions & more in this insider's view of the daily happenings at your Avian Vet's clinic.