iHeartCats is reader-supported. When you buy via links on our site, we may earn an affiliate commission at no extra cost to you.
It's the time of year to spread joy and cheer so bring out the ugly Christmas sweaters with cats on them! As the snowflakes begin to fall and jingle bells echo in the distance, cat lovers everywhere are letting their fashion sense take a delightfully wacky detour. From mischievous kittens tangling with ornaments to majestic cats donning Santa hats, these silly sweaters are more than just a fashion statement—they're a celebration of our whiskered companions.
Whether you're attending a festive gathering or sipping cocoa by the fireplace, these feline-inspired designs promise to add a touch of whimsy and warmth to your holiday season. Embrace the quirky blend of festive cheer and feline fandom and find your new favorite ugly Christmas sweater with cats!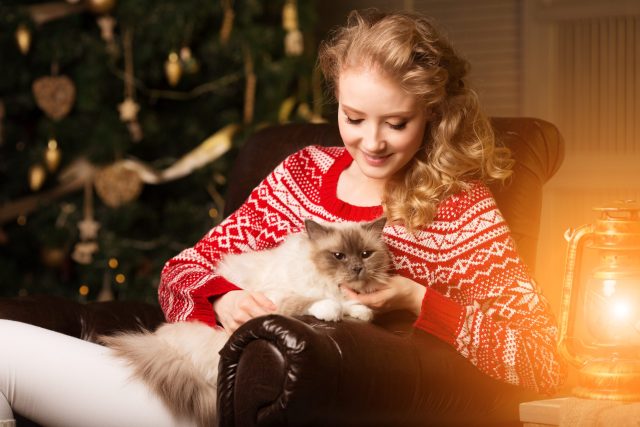 Buyers Guide: Factors to Consider When Choosing An Ugly Christmas Sweater with Cats
Choosing the perfect ugly Christmas sweater is both an art and a science. Here are some key factors to consider to ensure you nail the look:
Comfort: Before anything else, ensure the sweater is comfortable. Check the material (cotton, wool, acrylic, etc.) and consider if you have any allergies or sensitivities.
Fit: Whether you're going for a snug fit or a baggy, oversized style, make sure it fits the way you want. Remember, sweaters may shrink a bit after washing.
Level of "Ugliness": Decide on how 'ugly' you want to go. Some prefer a subtle level of quirkiness while others aim for over-the-top designs with bells and whistles—literally.
Interactivity: Some sweaters feature interactive elements like bells, 3D components, or even lights. If you're attending a party, these could be hit features!
Warmth: Depending on your geographical location or the venue, you may want a sweater that's thick and warm or one that's lighter and breathable.
Price: Set a budget. Ugly Christmas sweaters range from affordable to designer prices, so be clear on what you're willing to spend.
Washability: Given the chance of spillage at holiday parties, consider how easy it is to clean the sweater. Some with added electronics or delicate materials might not fare well in the wash.
Originality: If you're looking to stand out, consider how unique the sweater design is. You might not want to arrive at a party with three other people wearing the same sweater!
Inclusivity: Consider any cultural or religious symbols and their meaning. Please ensure your sweater choice is in good taste and not unintentionally offensive.
Remember, the spirit of the ugly Christmas sweater is to have fun and spread holiday cheer. Whatever you choose, wear it with confidence and joy!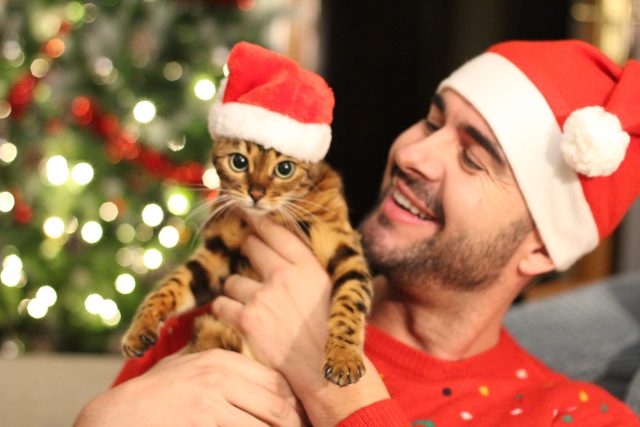 The 12 Best Ugly Christmas Sweaters for Cat People
#1 – Blizzard Bay Men's Long Sleeve Ugly Christmas Sweater
Blizzard Bay's Men's Long Sleeve Ugly Christmas Sweater, featuring a quirky ginger cat decking for Christmas, is an absolute treat for cat enthusiasts and fashion adventurers alike. The captivating design showcases a hipster cat donning Santa attire, complete with glasses, creating an endearing blend of festive and feline charm. The sweater quality promises warmth during chilly holiday evenings, while the vibrant colors ensure you stand out in any festive gathering. For cat lovers who appreciate a touch of humor and originality in their festive attire, this sweater is the purr-fect choice.
#2 – Pink Queen Women Turtleneck Loose Print Christmas Long Sweater Dress with Pockets
The Pink Queen Women's Turtleneck Long Sweater Dress is an adorable amalgamation of style, comfort, and festive feline flair. Adorned with a big kitty looking holiday-ready, this sweater dress captivates the essence of holiday cheer while paying homage to our beloved whiskered companions. The loose-fitting design, complemented by the comfort of a turtleneck, makes it an ideal choice for those looking to merge fashion with coziness. An added highlight is the practical pockets, blending functionality with style. For women who wish to step out in a piece that's both holiday-ready and cat-centric, this sweater dress is an unbeatable pick.
#3 – UNICOMIDEA Ugly Christmas Sweatshirts Men Long Sleeve Women Xmas Sweater Pullover
Diving into the whimsical realm of festive fashion, the UNICOMIDEA Ugly Christmas Sweatshirt introduces an eccentric twist with its design of kittens wearing Santa hats and riding slices of pizza. But wait, the "ugly" design ain't done! Complete with spaceships emitting French fries and lightning, this audacious motif offers a truly weird conversation starter at any festive gathering. The quality and comfort of the fabric make it not only a visual treat but also a joy to wear. For those looking to add a dash of quirky humor to their holiday attire, this sweatshirt is the ultimate choice.
#4 – RAISEVERN Unisex Christmas Sweatshirt for Men Women Pullover Sweater Crewneck Long Sleeve Top
Embracing the pure joy and fun of the festive season, the RAISEVERN Unisex Christmas Sweatshirt showcases an adorable array of Christmas kittens looking precious in Santa hats. This heartwarming design is sure to melt hearts and evoke smiles wherever it's worn. The rich colors and detailed graphics ensure it stands out, making it a festive favorite. For those who cherish the magic of Christmas and the endearing charm of kittens, this sweater is an "ugly" and cute dream come true.
#5 – Ugly Christmas Party Classic Knitted Ugly Christmas Sweater for Men and Women
The Ugly Christmas Party Classic Knitted Sweater brings nostalgic festive vibes with a humorous feline twist. Featuring the cheeky cat-shaming design, it offers a lighthearted take on the age-old tradition of sharing our pets' amusing misadventures. The classic knitting technique gives it an authentic holiday feel, reminiscent of sweaters lovingly handcrafted by grandparents. Suitable for both men and women, its universal design is as inclusive as the holiday spirit it embodies. For those who enjoy a blend of tradition, humor, and feline fun, this sweater is the purr-fect addition to the holiday wardrobe.
#6 – ALBIZIA Unisex Animal Print Crew Neck Ugly Christmas Xmas Pullover Sweatshirt
Infusing the festive season with a dose of delightful absurdity, the ALBIZIA Unisex Christmas Sweatshirt stands out with its silly cross-eyed cat Christmas design. This whimsical motif, featuring a feline sporting a Christmas tree as a hat, is bound to be the center of attention and chuckles at any gathering. Crafted with a crew neck style, it offers a blend of traditional aesthetics with modern quirkiness. It's more than just an ugly Christmas sweatshirt; it's a testament to the playful spirit of Christmas and our love for our quirky feline companions.
#7 – Blizzard Bay Men's Ugly Christmas Sweater Light Up
Taking the ugly Christmas sweater game to illuminating heights, the Blizzard Bay Men's Ugly Christmas Sweater introduces a crazy cat design with an added feature: it lights up! This electrifying sweater ensures you not only stand out with its design but also literally shine at any holiday event. The depiction of a zany cat, combined with the dynamic light effects, offers a theatrical element to traditional festive attire. It ensures a comfortable fit while promising to be the highlight (pun intended) of any Christmas party. It's a fusion of tech, tradition, and a touch of feline madness.
#8 – Santa Cats Pajama This is My Ugly Christmas Kittens Sweater T-Shirt
For those who prefer a more relaxed take on the traditional ugly Christmas sweater, the Santa Cats T-shirt offers a delightful solution. Featuring a festive array of Christmas Kittens snug in their stockings, this design effortlessly captures the playful essence of the holiday season. More than just a T-shirt, it's a statement piece that declares your love for cats and Christmas in equal measure. The soft fabric ensures you're as comfortable as you are stylish, making it ideal for both holiday parties and cozy nights in. For cat lovers who value comfort and a touch of festive silliness, this T-shirt is the ultimate choice.
#9 – BoredKoalas Meowzel Tov Chanukah Jewish Cat Owner Ugly Hanukkah Gift T-Shirt
Merging festive Hanukkah spirit with feline charm, the BoredKoalas "Meowzel Tov" T-shirt is a delightful addition to any holiday wardrobe. The clever play on words, combined with cats flanking a menorah, makes it a humorous and heartwarming piece. Crafted as a T-shirt, it provides a more relaxed alternative to formal festive wear, while still capturing the essence of the celebration. The design is not only a nod to Hanukkah but also a tribute to cat lovers, making it a unique and thoughtful gift or personal wear for the holiday season.
#10 – Lovekider Mens Ugly Christmas Sweater Novelty 3D Novelty Unisex Xmas Sweatshirt
Igniting the festive spirit with a touch of humor, the Lovekider Men's Ugly Christmas Sweater, featuring cats lasering into gifts, is a quirky masterpiece. Crafted for both warmth and style, this fun sweatshirt ensures you stay cozy while making a bold holiday statement. The vibrant colors and detailed graphics make it a standout piece, ensuring you grab attention at any Christmas gathering. It's a celebration of the fun, sometimes chaotic, joys of the holiday season and our beloved cats.
#11 – Cat Daddy Ugly Christmas Sweater Pajama Kitty Cat Lover Xmas Sweatshirt
Celebrating the bond between men and their feline companions, the "Cat Daddy Ugly Christmas Sweater" is an ode to all the cat daddies out there. With a festive design that incorporates a cute black cat amidst classic holiday elements and paw prints, it's the purr-fect attire to express both Christmas joy and cat affection. Crafted with comfort in mind, it doubles as pajama wear, ensuring those chilly winter nights are both cozy and stylish. The phrase "Cat Daddy" proudly emblazoned on the sweater showcases the pride of being a cat parent. Whether you're a proud cat dad or seeking the ideal gift for one, this sweater beautifully captures the festive feline spirit.
#12 – Goodstoworld Mens/Womens Ugliest Christmas Sweatshirt 3D Unique Hilarious Graphic Pullover Shirt
Taking festive attire to unexpected and hilarious heights, the Goodstoworld Christmas Sweatshirt showcases a design that's truly out of this world: a tabby cat riding a T-rex, both shooting lasers among a holiday scene of presents and a Christmas tree. This audacious and brilliantly imaginative motif is bound to be the conversation piece at any holiday gathering. With vivid 3D graphics, the sweatshirt brings this eccentric scene to life, offering a visual treat for both the wearer and onlookers. For those who believe that Christmas attire can be both festive and fantastically wild, this ugly Christmas sweatshirt is a must-have.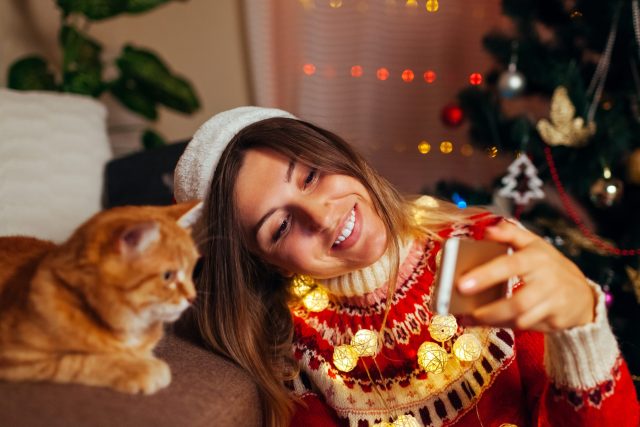 FAQs About Ugly Christmas Sweaters with Cats
What is the origin of the ugly Christmas sweater?
The rise of the ugly Christmas sweater can be traced back to the 1980s, with its roots in both fashion and pop culture. Initially, these sweaters weren't intended to be "ugly" but rather embraced the festive holiday spirit with colorful and cheerful designs. Over time, TV shows and movies began featuring characters clad in kitschy holiday attire, which contributed to their growing popularity. As decades passed, the irony of wearing these over-the-top, outdated designs became a humorous holiday tradition, and what was once seen as earnest holiday attire transitioned into the ironic "ugly Christmas sweater" phenomenon.
How can I make my own ugly Christmas sweater?
Crafting your own ugly Christmas sweater is a delightful way to showcase creativity and personalize your festive attire. Start with a basic sweater as your canvas, which can be a new purchase or a thrift store find. Visit a craft store to collect materials like felt shapes, sequins, beads, pom-poms, and tinsel. Use fabric glue or a sewing kit to attach these decorations. Think of creative designs: reindeer with googly eyes, 3D Christmas trees, or jingling bells. The more outlandish and over-the-top, the better. If you're feeling especially crafty, integrate battery-operated LED lights for an added touch!
Can I wash my ugly Christmas sweater?
The washability of an ugly Christmas sweater depends on its material and the decorations attached to it. Always check the care label first. If your sweater is heavily embellished or features electronic components like lights, it might be best to hand wash gently or spot clean to prevent damage. For less intricate designs, turning the sweater inside out and using a delicate wash cycle can work. After washing, lay the sweater flat to dry to maintain its shape and avoid stretching.
Why are they called "ugly" Christmas sweaters?
The term "ugly" in "ugly Christmas sweater" is used with a touch of irony and affection. Originally, these sweaters were designed with sincere festive spirit, showcasing vibrant colors, cheerful holiday symbols, and often intricate hand-made details. However, as fashion evolved, these earnest designs began to stand out as overly ornate and out-of-date, making them "ugly" by modern fashion standards. Yet, instead of fading into obscurity, the sweaters became a humorous holiday tradition, with people embracing the kitsch and intentionally seeking out the most over-the-top designs.
How can I host a cat-themed ugly Christmas sweater party?
Hosting a cat-themed ugly Christmas sweater party is a delightful way to blend festive celebrations with feline affection. Start by sending out invitations adorned with playful illustrations of cats in festive attire. For decor, think cat-shaped ornaments, twinkling cat-eye lights, and a centerpiece featuring a faux Christmas tree with cat toys as ornaments (be sure curious paws won't destroy it!). Encourage guests to wear their most "purr-fect" ugly sweaters adorned with cat motifs. Set up a photo booth with feline props and cat ear headbands, and consider serving cat-themed treats, such as cookies shaped like paws or cupcakes with whiskered cat faces. To elevate the festive spirit, hold a contest for the "ugliest" cat-themed sweater, and perhaps, if it's feasible, create a cozy corner for any friendly cats to join the fun!
Do they make ugly Christmas sweaters for pets?
Yes, the popularity of the ugly Christmas sweater trend has spilled over into the pet world! Many pet stores and online retailers now offer festive and delightfully tacky holiday sweaters designed specifically for our furry friends. These sweaters come in various sizes, accommodating everything from kitties and tiny teacup breeds to larger canines. From reindeers with antlers to cats dressed as Santa, the designs are as diverse and amusing as those for humans.
Are there other "ugly" holiday-themed sweaters for occasions other than Christmas?
Absolutely! The success of the ugly Christmas sweater has inspired similar attire for other holidays and occasions. There are sweaters for Hanukkah with menorahs and dreidels, Thanksgiving sweaters featuring turkeys and pies, Halloween designs with spooky elements, and even Valentine's Day sweaters adorned with hearts and cupids. The concept remains the same: over-the-top, colorful, and humorous designs that embrace the festive spirit of each holiday in a lighthearted and fun way.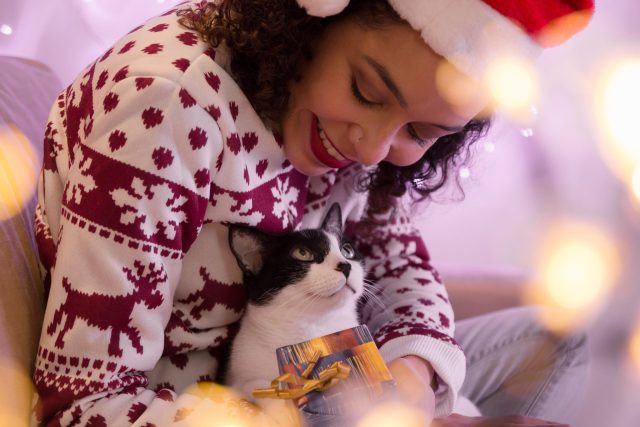 Final Thoughts
As we wrap up our festive foray into the world of the best ugly Christmas sweaters with cats, it's evident that these designs are more than just holiday wear—they're a tribute to the endearing bond between humans and their feline friends. Whether you're a seasoned cat enthusiast or simply someone who enjoys a touch of whimsy during the holiday season, these sweaters are sure to bring joy and conversation to any gathering. Embrace the meowgical spirit, wear your cat-centric attire with pride, and may your holidays be filled with purrs, laughter, and warmth!
iHeartCats is reader-supported. When you buy via links on our site, we may earn an affiliate commission at no extra cost to you.