In rural areas, seeing a feral or stray cat is no surprise. Finding a litter of kittens in sheds or barns is also something all too common. And as a kitten born to a feral mom in a barn, Willow could have been one more kitty in the wilds, stuck in the cycle of breeding litter after litter. But thanks to Mystery's Haven, an animal rescue group dedicated to bettering feline lives, Willow is living the good life with lots of love and food.
And Willow's happy ending could not have been possible without you, cat lover. Because you shop with purrpose, you help us save cats. And for that, we at iHeartCats can't thank you enough!
Delivering Goods Through Mindful Shopping
Anytime you shop with iHeartCats, every purchase funds donations for needy felines. Whether you purchase a cute cat shirt for yourself or supplements for your cat, that cart full of goodies gives compassion, empowering our partnership with Greater Good Charities. Through this partnership, we ensure shelter cats receive food and other necessities while waiting for their forever home. To date, the GOODS Program has delivered over 578 million meals to shelters and rescues nationwide. That's more than 6,000 truckloads delivered to hungry animals!
But it's not just about the food; the GOODS Program also ensures that rescues and shelters receive other vital necessities, including toys. And when kittens and cats have toys to play with and good food to eat while in rescue and foster care, they learn what it means to be safe and loved. Willow is one of these blessed kitties!
Here a Cat, There a Cat in the Rural Wilds
"Willow, the beautiful gray kitty, was born a barn kitten with her litter mates," Mystery's Haven shared, her tale one the rescue has become quite familiar with in dealing in rural areas.
"Stray cats are a pandemic in many rural areas, and this is definitely the case with where Willow came from," explained Mystery's Haven. "Barn cats start accumulating and before you know it the numbers are growing and fast. Thankfully, Willow's mom was spayed after this last litter were placed with new homes."
In having Willow and her mom spayed, Mystery's Haven broke the cycle of breeding for these sweet girls. And they're just two of the cats the rescue has helped. Every day, Mystery's Haven is spaying Queens and neutering Toms to create a happy and healthier world for all the felines in their area. That work has allowed Willow to be a carefree cat who worries for nothing!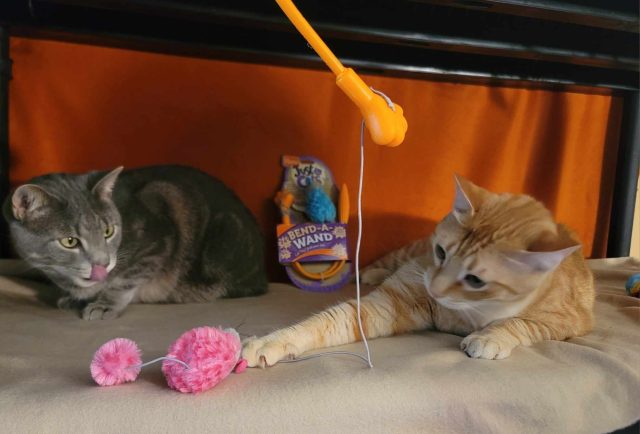 "Willow now lives at Mystery's Haven, where she loves being the center of attention and a very vocal one at that! Willow just loves to play and be adventurous. She is your typical, spoiled house cat now and has no worries in the world."
All the yummy food donations and fun toys that arrive with those food cans and sacks bring Willow and all the felines at Mystery's Haven so much joy.
"The kitties at Mystery's Haven are over the moon with all of their new toys courtesy of Hartz, GOODS Program, and 4 Paws Animal Rescue! We couldn't do this without you!"
While GOODS is delivering the donations, you're funding them! Willow says thank you for shopping and giving her the best life a cat could ever imagine.
The following products provide quality food for shelters and rescues, helping them reserve more of their precious funds for medical expenses, supplies, and spreading the word about their adoptable pups and kitties.