In the ever-growing quest for eco-friendly and health-conscious pet care products, natural cat litter is becoming a preferred choice for many cat owners. These litters not only promise a lower environmental footprint but also offer a more natural and safer toileting experience for our feline companions. In this article, we will explore the best natural cat litter available, which harnesses the power of biodegradable materials such as corn, wheat, walnuts, and recycled paper. From their clumping capabilities to odor-controlling properties and biodegradable qualities, we'll help you sift through the options to find a natural cat litter that meets both your ethical standards and your cat's personal preferences.
#1 – ökocat Less Mess Natural Wood Clumping Cat Litter Mini-Pellets, Great for Long-Hair Breeds, Medium, 14.8 lbs.
ökocat Less Mess Natural Wood Clumping Cat Litter Mini-Pellets is a pellet cat litter that is highly absorbent and effective at clumping solid waste and eliminating odors. It is designed to be less likely to stick to cats' fur or track throughout the house. Made from clean wood fiber, this litter is 99% dust-free, environmentally friendly, and free of artificial fragrance and toxic chemicals.
---
#2 – ARM HAMMER Naturals Cat Litter, Multi-Cat, 18lb Bag
The ARM & HAMMER Naturals Cat Litter is a multi-cat litter option that contains natural corn fibers, a plant-based clumping agent, baking soda, and mineral oil for dust control. It offers outstanding odor control for households with multiple cats and is highly absorbent, absorbing twice as much liquid as clumping clay litter. Additionally, it has a low dust formula and a fresh scent fragrance for a pleasant litter box experience.
Best For: Multi-cat households with a focus on odor control.
---
#3 – Naturally Fresh Cat Litter – Walnut-Based Quick-Clumping Kitty Litter, Unscented, 26 lb (23001)
The Naturally Fresh Cat Litter is a walnut-based, quick-clumping kitty litter that comes in a 26 lb bag. This litter is highly absorbent and one bag is equivalent to three bags of clay litter. It is virtually dust-free, making it safer for both cats and their owners, and it is also 100% natural and environmentally friendly.
Best For: Environmentally-conscious cat owners on a budget.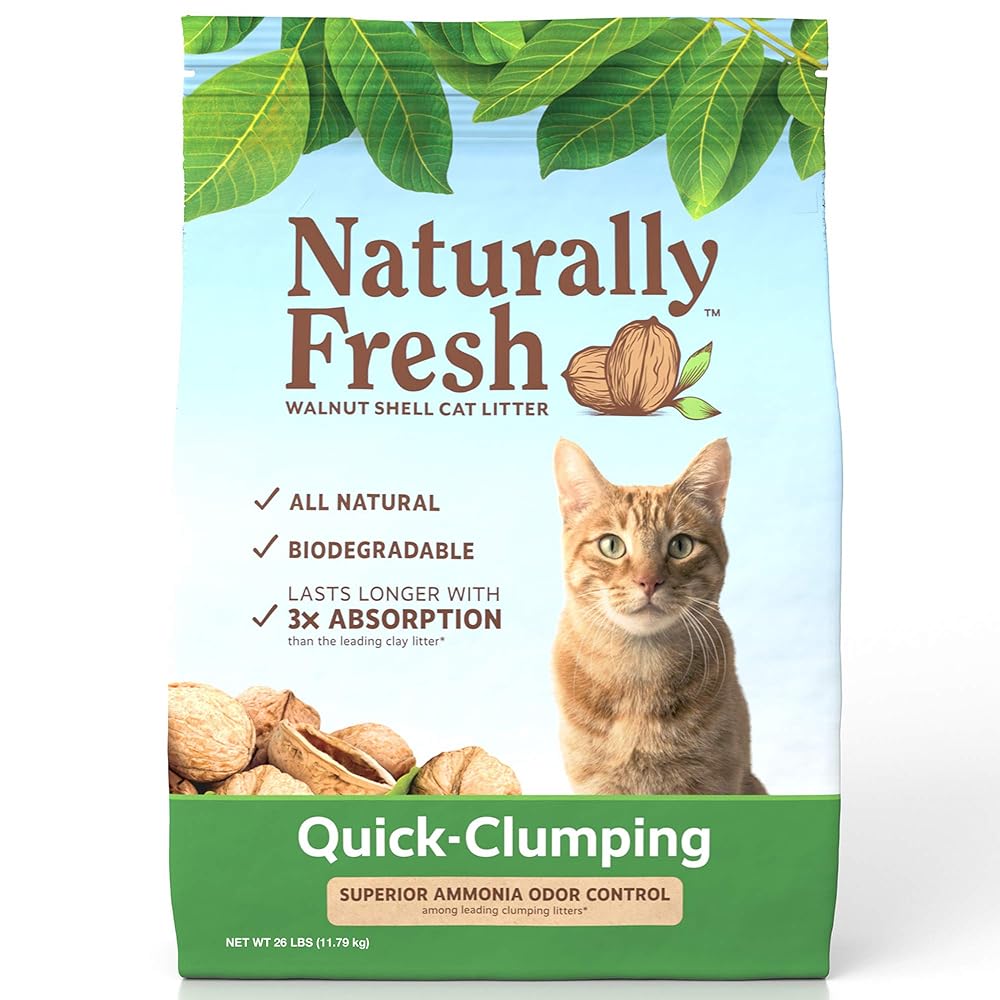 ---
#4 – Sustainably Yours Natural Cat Litter, Multi-Cat, 10 lbs
Sustainably Yours Natural Cat Litter is a highly recommended cat litter by Jackson Galaxy, a renowned cat expert. It is made from renewable crops such as corn and cassava and offers exceptional odor control without the use of chemicals or fragrances. The litter forms firm clumps that can be easily scooped out and its lighter color helps in maintaining a clean litter box.
Best For: Best Overall
---
#5 – Lifeplus Pet Tofu Cat Litter Natural Ultra Odor Control Zero Tracking Flushable Clumping Dust Free Unscented Premium Quality Absorption Multiple Cats Litter 6 pounds (2.72kg) 2.0 mm Original (12 lbs)
The Lifeplus Pet Tofu Cat Litter is a natural, odor-controlling, clumping cat litter that is free of dust and tracking. It is made from natural pea fibers and is flushable, making it convenient to clean up. This cat litter is unscented and suitable for multi-cat households.
Best For: Multi-cat households on a budget
---
#6 – sWheat Scoop Natural Wheat Cat Litter, Original, Fast Clumping with Odor Neutralizing Enzymes, 25 Pound Bag
The sWheat Scoop Natural Wheat Cat Litter is a natural and environmentally-friendly cat litter made from domestically sourced wheat. It is designed to clump quickly and effectively neutralize odors, making scooping and clean-up easy. It is made without added dyes, perfumes, or chemicals and is 99.5% dust-free and low-tracking, making it a better option for cats, people, and the planet.
---
#7 – Cat's Pride Max Power: Natural Care – Up to 10 Days of Powerful Odor Control – 100% Natural Odor Elimination – Hypoallergenic – 99% Dust Free – Multi-Cat Clumping Litter, Unscented, 15 Pounds
Cat's Pride Max Power is a multi-cat clumping litter that offers up to 10 days of powerful odor control. It is 100% natural and hypoallergenic, making it suitable for sensitive cats. The patented Max Power dual-clay formula is 99% dust-free and 25% lighter than traditional litters, making it easier to handle. For every jug purchased, Cat's Pride donates one pound of litter to animal welfare organizations.
Best For: Best odor control and hypoallergenic option.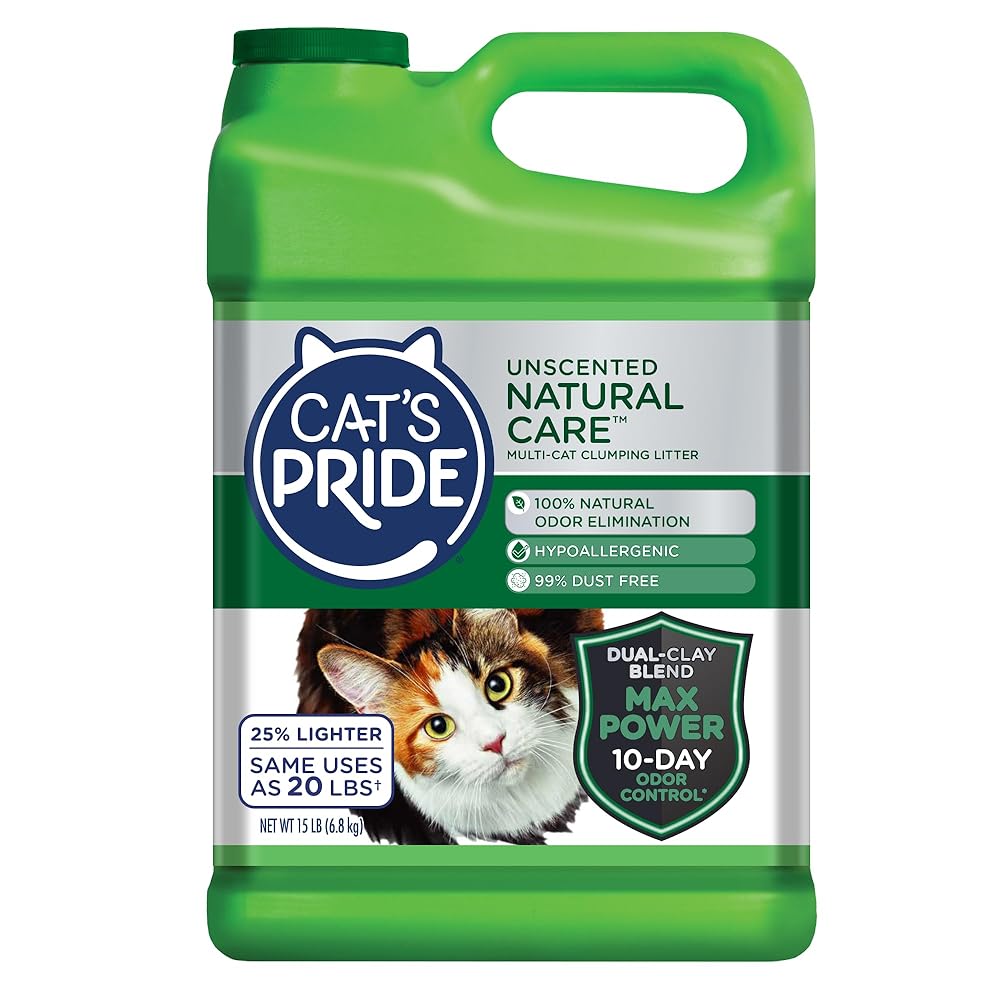 ---
What Should I Consider When Looking for a Natural Cat Litter?
When looking for natural cat litter, you should consider several factors to ensure you select the best option for both your cat and your lifestyle:
1. Material: Natural litter can be made from a variety of materials, including corn, wheat, pine, walnut, and recycled paper. Each has different properties in terms of clumping, odor control, and dust production.
2. Clumping vs. Non-Clumping: Decide whether you want a clumping litter, which makes scooping easier, or a non-clumping one, which may be less messy and more suitable for certain types of litter boxes.
3. Odor Control: Evaluate the litter's ability to control odors naturally. Some natural litters are better at this than others, depending on the material and whether it contains added natural odor controllers like baking soda.
4. Dust and Tracking: Consider the amount of dust the litter creates, as this can affect respiratory health, and how much it tracks out of the box, as this affects cleanliness.
5. Environmental Impact: Look for litters that are sustainably sourced and biodegradable. Some natural litters can even be composted or flushed, but always check local regulations if considering flushing.
6. Cat Preferences: Your cat's preference is crucial. Some cats may not like the texture or scent of certain natural litters, so you might need to try a few to find one that your cat is comfortable using.
7. Ease of Use and Cleaning: Some natural litters may require more frequent changing or different cleaning methods. Ensure the litter fits into your cleaning routine without adding undue burden.
8. Allergies and Sensitivities: If your cat or anyone in your home has allergies, make sure the litter does not contain any allergens and is as dust-free as possible.
9. Price: While natural litter can be more expensive than traditional clay litter, the cost is often offset by the benefits of natural ingredients. Determine your budget and balance it against the litter's benefits.
10. Availability: Finally, consider the availability of the litter. It should be easily purchasable from your preferred retailer or online without the need for special orders.
Frequently Asked Questions About Natural Cat Litters
1. Is natural cat litter better for my cat's health?
Natural cat litter is often free from chemicals and artificial fragrances, which can be better for cats, especially those with allergies or sensitivities. They're typically made from biodegradable materials that produce less dust, reducing respiratory irritants for both cats and humans.
2. How well does natural cat litter control odor?
Many natural cat litters are quite effective at controlling odor. Materials like pine, cedar, and walnut naturally neutralize smells, and some natural litters are enhanced with baking soda or other natural odor-absorbing substances.
3. Can natural cat litter be flushed down the toilet?
Some natural cat litter, especially those made from corn or wheat, are flushable in small quantities. However, it's essential to check your local sewage regulations and be cautious of potential plumbing issues.
4. Is natural cat litter compostable?
Many types of natural cat litter are compostable, such as those made from corn, wheat, pine, and paper. However, it's not recommended to compost cat litter used for food gardens due to the risk of pathogens.
5. Do natural cat litter produce less dust than clay litter?
Natural cat litter generally produces less dust than traditional clay litter, which is beneficial for cats with respiratory issues and helps keep the home cleaner.
6. Will my cat use natural cat litter?
Most cats adapt well to natural cat litter, though some may initially be hesitant due to the different texture or smell. It's often helpful to transition gradually by mixing natural litter with your current litter.
7. Are natural cat litter more environmentally friendly?
Yes, natural cat litter is typically more environmentally friendly as they are made from sustainable, biodegradable materials that break down more easily than clay or silica-based litter.
8. What types of natural materials are used in cat litter?
Common materials used in natural cat litter include recycled paper, pine, walnut shells, corn, wheat, bamboo, and grass.
9. How does the cost of natural cat litter compare to traditional litter?
Natural cat litter can be more expensive than traditional clay litter, but prices vary widely between brands and materials. The long-term cost may also be offset by the health and environmental benefits.
10. Can kittens use natural cat litter?
Natural cat litter is usually safe for kittens. Since they are prone to ingesting litter, natural litters are safer than clumping clay litters, which can cause blockages if swallowed.
Conclusion:
Best Natural Cat Litters
Summing up, the best natural cat litter provides a harmonious balance between being kind to the environment and ensuring the comfort and health of our cats. They offer a sustainable solution to waste management without compromising on performance. With the insights provided in this article, you're now well-equipped to make a choice that not only aligns with the natural instincts of your cat but also supports a greener planet. By choosing a natural cat litter, you're taking a small but significant step towards a more sustainable and responsible approach to pet care.