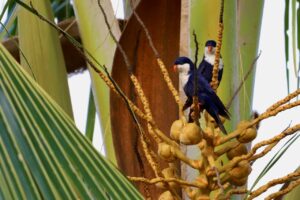 The Cook Islands is a self-governing island country in the South Pacific Ocean in free association with New Zealand, which it relies upon for its defense. It is comprised of 15 islands split between two groups, with a total land area of 237 square km or 91 square miles.
Last year, Luis Ortiz-Catedral Ph.D, Director of the Oceania Region for the World Parrot Trust, had the opportunity to visit one of the most beautiful of the atoll-like islands, Aitutaki. It is home to the Kurāmo'o or Blue Lorikeet (Vini peruviana). His goal was to kickstart a partnership with local agencies to better understand the status of this species on Aitutaki. He decided to travel the island largely on foot to look for the Kurāmo'o and to assess their flying patterns, diet, numbers, and general behavior. It took Luis several days to traverse the areas most inhabited by the lorikeets, while thoroughly enjoying this island paradise and its friendly population.
Here is a bit of his experience in his own words.
Vulnerable in the Pacific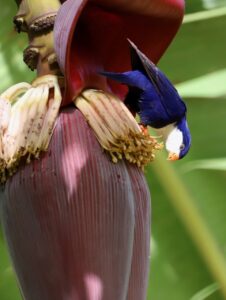 The Kurāmo'o is one of 10 or so lorikeet species in the Vini genus, a group of parrots that extends from the Solomon Islands to French Polynesia. Vini lorikeets are amongst the most vulnerable land birds in the South Pacific. Introduced rats eat their eggs and chicks, while cyclones can profoundly impact the availability of flowers and fruits, thus affecting the survival prospects of these sugar-loving parrots. They are also tricky to keep in captivity, thus limiting the potential for captive breeding to assist in their conservation.
The history of the Kurāmo'o is fascinating. The species was described by Philipp Ludwig Statius-Müller in 1776, the same year of his death. Statius-Müller originally named the bird "Psittacus peruvianus," indicating that the species origin was Peru. Back in those days, European naturalists would describe species without ever seeing them in the wild and often from a single specimen. Statius-Müller never realized that the stuffed bird he used to describe a new species had been merely shipped to Europe via Peru but was most likely collected in French Polynesia.
Up until the early 1700s, the Kurāmo'o was one of the most widespread lorikeets in the South Pacific, inhabiting at least 20 islands and various islets across French Polynesia. Nowadays, it occurs only on Aitutaki and on less than 10 islands in French Polynesia. Aitutaki is my kind of place: white sandy beaches, coconut palms, and hot temperatures. With just under 2,000 inhabitants the pace of life is relaxed and friendly.
Monitoring a Species at Risk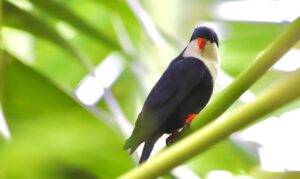 By day four, having walked nearly 100 km and after opening many coconuts, I had registered 180 Kurāmo'o distributed across most of the island except the southernmost part where coconut palms are less abundant. I saw them feeding predominantly on nectar and pollen of coconut flowers, carefully nibbling at the petals and stamens of hibiscus buds, and banana tree buds. I also observed two juveniles with their almost even blue plumage, nibbling at coconut flowers. I also located several potential nesting hollows on dead trees. Kurāmo'o are fairly common on Aitutaki, however, they are highly susceptible to depredation by introduced rats already present on the island.
This year, the World Parrot Trust in partnership with two local agencies, the Cook Islands Natural Heritage Trust and Te Ipukarea Society, will begin a project funded by the Pacific Development and Conservation Trust aimed at enhancing the species' breeding success by protecting nests. The same project aims to estimate Kurāmo'o numbers on the island.
This month's Lafeber grant goes to support these three NGOs and their effort to estimate the Kurāmo'o population and begin nest protection efforts.
Sue, donation link is https://www.parrots.org/donate, and note that it is for the Kurāmo'o lorikeets